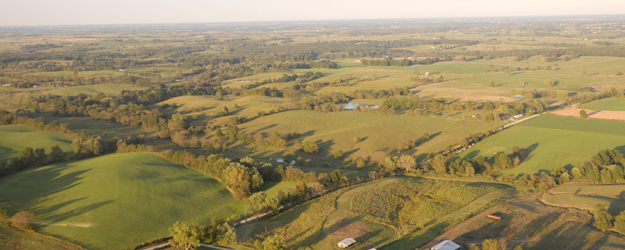 U.S. farm real estate values are up nearly 11% from 2011 values, continuing a long upward trend
For the third straight year, U.S. farm real estate values have posted solid increases. USDA's August 2012 Land Values report shows that farm real estate values, which measure the worth of land and buildings on farms, averaged $2,650 per acre for 2012, up 10.9% from 2011.
The steady increase of farmland values is not surprising, says Mike Walsten, editor of the LandOwner newsletter, part of Farm Journal Media. "Farm real estate values have moved higher in all years but one since 2000."
Walsten says the force behind farmland value gains, cropland values in particular, is the record net farm income in recent years. "Farmers are the No. 1 buyers of farmland. The combination of record incomes and the desire to expand existing operations has proved to be an explosive force in the farm market," he says.
Another contributing factor is low supply. "The number of properties moving to the market fell sharply from late 2008 through 2011. Other than in Iowa, sales inventories have continued tight through the first seven months of 2012," Walsten says.
Regional changes. Farmland values didn't increase across the board. Regional changes in the average value of farm real estate ranged from a 26.7% increase in the Northern Plains to a 4.1% decline in the Southeast region. The highest farm real estate values were in the Corn Belt, at $5,560 per acre, while the Mountain region had the lowest values, at $974 per acre.
Looking ahead, Walsten says he believes the farmland market will level out. "Data will continue to show gains on a year-ago basis because the farmland market saw a sharp leap in the final months of 2011."
He says several market observers are predicting slippage in farm real estate values due to the drought. "While particularly hard-hit areas and heavy livestock areas may see some softening, the combination of crop revenue insurance and strong crop prices should keep demand relatively firm for farmland."
---