While some areas of the Corn Belt saw drought retreat last week, drought expanded nearly four percentage points from the previous week, with 30.6% of the Midwest now covered by some form of drought. Additionally, Moderate Drought covers 6.12% of the region (3.4% last week) and Severe Drought was introduced in central Minnesota.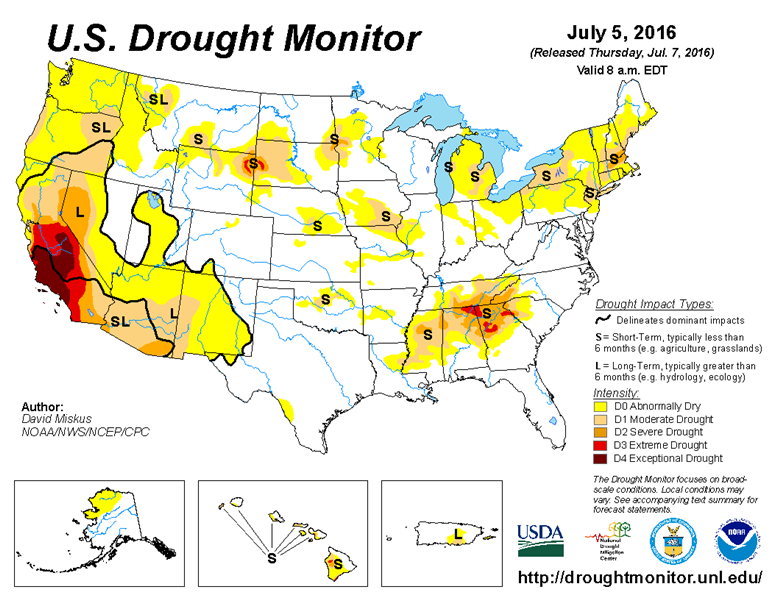 The monitor states, "Widespread, beneficial rains (2-6 inches, locally to 10 inches) fell on the Central Plains and the middle Mississippi and lower Ohio Valleys, quickly ending speculation about a possible July flash drought developing in the Nation's mid-section. With D0 and D1 expanding last week during critical crop growth stages, ample rains quickly erased the abnormal dryness across much of eastern Kansas, Missouri, southern Illinois and western Kentucky, and shrunk some of the D0 in central Nebraska, western Iowa and central Indiana as showers were more scattered in these areas."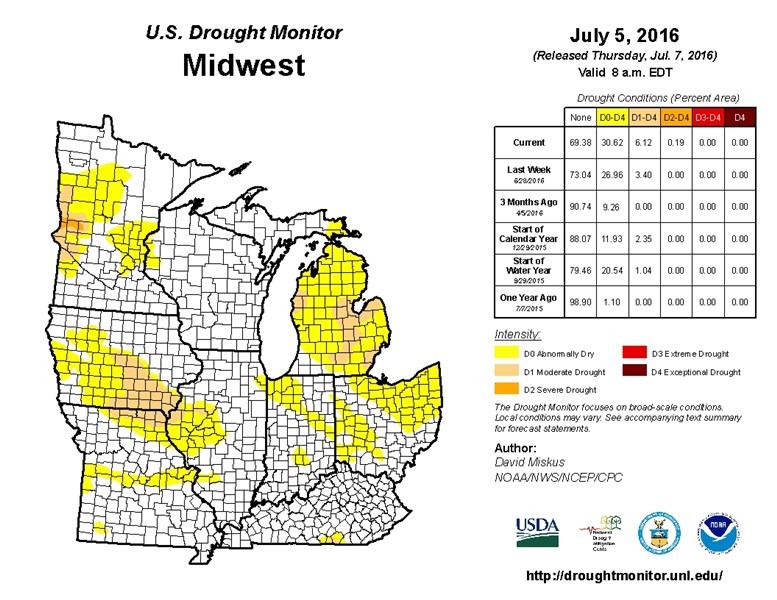 However, the monitor goes on to say, "Where D0 and D1 remained (southern Nebraska, southeastern Iowa, western Illinois, northern Indiana), amounts were not great enough to make improvements, but were also not severe enough for degradation. An exception was in central Iowa (Story and Marshall Counties) where little or no rain and increasing deficiencies were enough for D1. In contrast, the past few weeks have been quite dry in the upper Midwest (central and northern Minnesota) and north-central Great Plains (northeastern South Dakota and southeastern North Dakota). With low stream flows and 90-days indices justifying additional dryness, D0 expanded into north-central and east-central Minnesota, D1 increased into southwestern North Dakota and west-central Minnesota, and D2 stretched into Grant and Douglas Counties. However, a localized thunderstorm dropped 4-5 inches of rain on Stevens County, diminishing the D1 there. In addition, the worsening conditions in Michigan were covered in the New England and eastern Great Lakes region summary."
This morning, rains are moving across the driest areas of Iowa. In its outlook for July 7 through 11, the monitor says moderate precipitation (more than an inch) should fall along the northern tier of States (Washington-Oregon eastward to New England), and in the northern and central Great Plains, Midwest, Tennessee and Ohio Valleys and Appalachians. "The greatest totals (more than 2.5 inches) were forecast for North Dakota, the western Corn Belt, the Tennessee Valley and northern New England," it forecasts. "Little or no precipitation was expected for the southwestern quarter of the nation, the southern Plains and Florida. Temperatures should average below-normal in the West, northern Plains, upper Midwest and New England, with above-normal readings in the southern Plains and along the southern and mid-Atlantic Coast States."
---