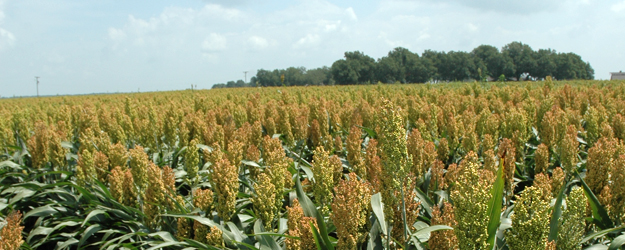 Low soil moisture and memories of last year's drought may lead some producers in the southern plains to plant more sorghum for grain this year.
"There are some folks who just want to have a little something slightly less risky than dryland corn," said Kraig Roozeboom, a crop specialist at Kansas State University.
Sorghum production reached only 214 million bushels in 2011, or less than 2% the size of the corn crop. U.S. sorghum plantings trended down from 10.2 million acres in 2001 to 5.5 million last year. However, it's still an alternative to corn used in feed, ethanol, and exports.
Roozeboom found producers interested in learning more about sorghum at six production schools in Kansas during February and early March.
In the drought last year dryland corn "got burned up in a big chunk of the state," he said, adding, "a lot of sorghum did, too."
The current Drought Monitor from USDA and the National Weather Service shows abnormally dry to drought conditions across western Kansas, western Oklahoma, and most of Texas. Kansas and Texas alone planted more than 80% of U.S. grain sorghum in the past three years. Colorado and South Dakota also produce sorghum, and both are dry this spring.
"At close to six or seven inches of water you start to get grain from sorghum," said Roozeboom. "Corn is closer to 10 or 11 inches." Sorghum tends to yield better when up to 15 or 16 inches of water are available from the soil, but yields increase faster for corn than for sorghum when more water is available.
Balancing Costs and Yields
Planting costs are about $70/acre less for sorghum than for corn because of seed costs, but other costs for dryland production are about the same, said Rodney Jones, Oklahoma State University extension economist based at Enid. Growers need higher corn yields to make up the cost difference. "Some people feel that they can do that or they wouldn't be raising corn," he said. "Others feel grain sorghum is a pretty attractive alternative."
The Grain Sorghum Checkoff, based in Lubbock, Texas, calculates potential per-acre net income for sorghum ranging from $408 to $526, compared with corn calculations of $495 to $745. The checkoff estimates per-acre costs ranging from $214 to $298 for sorghum and from $367 to $549 for corn.
Weed control has favored corn over sorghum, noted Roozeboom, because growers could plant glyphosate-tolerant corn but didn't have that choice for sorghum. Glyphosate-tolerant weeds have become a significant issue in parts of western Kansas, he said, so weed control is less of a factor in the choice between corn and sorghum.
Valuable in Crop Rotation
Bill Greving, a grain and cattle producer from Prairie View, Kan., summed up benefits of growing sorghum in testimony to the Senate Agriculture Committee in February:
"Although growing conditions in Kansas can often be challenging, sorghum works and is one of the few crops we can grow with limited rainfall. It is naturally drought tolerant, heat resistant, and does well on marginal land. With limited rainfall (less than 21 inches per year), and a declining Ogallala Aquifer, sorghum is becoming even more valuable in our crop rotation."
Too Dry, Too Wet in South Texas
Five of the country's biggest sorghum-producing counties are in the Coastal Bend and Lower Rio Grande Valley regions of Texas.
"They're planting about 10 days late," said Larry Falconer, Texas A&M extension economist based at Corpus Christi. He expects grain sorghum acreage to be about the same as it was last year in the southern part of the region. "Cotton prices are still good enough that they'll probably stay fairly close to the cropping patterns they were in last year," said Falconer.
Even though the Drought Monitor shows the Coastal Bend of Texas in exceptional to extreme drought, rain delayed corn planting, so growers may shift some acreage from corn to sorghum.
Texas Panhandle Acres Shifting
"At these prices, it's becoming more attractive," said Steve Amosson, a Texas AgriLife economist based at Amarillo and working with growers in the High Plains. He expects some acreage to shift from corn to sorghum or cotton. "And there will likely be a substantial increase in seed sorghum being grown. Seed is not real easy to find this year."
More than 1 inch of rain fell over much of the Panhandle last week, but the March 26 Texas Crop Progress and Condition Report rated topsoil moisture more than 80 percent short to very short in two High Plains districts of the Panhandle.
Crop budgets for 2012 show profit prospects for sorghum and cotton, but not as high as for corn.
"When you think about profit per acre, corn will be better than sorghum," said Amosson. "But you have to have enough water."
..................................
Grain sorghum production and value
U.S. production peaked in 1985 at 1.12 billion bushels valued at $2.24 billion.
Planted acreage has trended down from a recent high of 13.1 million acres in 1996 to 5.5 million acres last year.
Total value of the crop had been in the range of $750 million to $1 billion from 1998 through 2006, but it soared toward $2 billion in 2007 and reached about $1.3 billion last year.
National average yields for the past two decades have varied between 50 bu./acre and 73 bu./acre. Last year's drought pushed the yield down to 54.6 bu./acre, from 71.8 in 2010.
Annual average sorghum grain prices had stayed in a range of $2.86/cwt. to $4.34/cwt. from 1997 through 2006. The average surged to $8.12/cwt. in 2008, backed off for two years, and climbed to $10.70/cwt. in 2011. Per bushel, the average price rose from $3.22 in 2009-10 to the USDA's projected $5.80-6.40 in 2011-12.
For More Information
Read more crop news.
Check your local forecast with AgWeb's Pinpoint Weather.
---