What is the risk of planting corn in April versus May versus June? As the weeks continue to rush by, yield potential continues to fall.
Of course, planting dates is just one of the many yield-influencing factors for corn. Depending on the weather, pests and disease challenges throughout the growing season, later-planted corn could still yield equal to or more than early-planted corn.
According to an article by Purdue University's Bob Nielsen, the estimated yield loss per day varies from about 1 bu./acre/day early in May to nearly 2 bu./acre/day by the end of May.
Below you'll find the corn planting dates and yield effects for many of the Corn Belt states.
Iowa
| | |
| --- | --- |
| Planting Date Window     | Yield (bu./acre) |
| March 20 – April 5 | 186 |
| April 5 – April 20 | 198 |
| April 20 – May 5   | 196 |
| May 5 – May 20 | 183 |
Ohio
Planting Date Affects Yield, Percent Grain Moisture, and Test Weight of Corn Grain (Columbus, Ohio).

Planting Date (mo/day)

Percent of Maximum Yield

Percent Grain Moisture

TestWeight (lbs/bu)

4/23 - 4/29

100

20.8

55

4/30 - 5/7

99

23.7

55

5/8 - 5/14

92

24.9

55

5/22 - 5/27

87

28.2

54

5/28 - 6/4

79

35.0

51

6/23 - 6/25

52

40.0

49
Minnesota
(Rule of thumb for southern Minnesota)
| | |
| --- | --- |
| Planting date | Yield potential (%) |
| May 5 | 97 |
| May 10 | 94 |
| May 15 | 91 |
| May 20 | 88 |
| May 25 | 86 |
| May 30 | 83 |
| June 4 | 77 |
| June 9 | 71 |
| June 14 | 65 |
| June 19 | 59 |
Illinois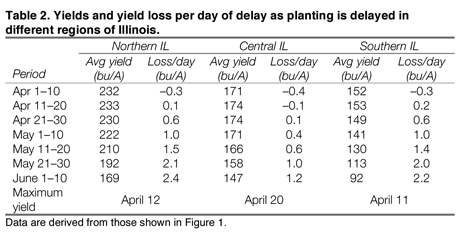 Missouri
| | |
| --- | --- |
| Planting date | Yield potential (%) |
| May 1 | 94 |
| May 6 | 92 |
| May 11 | 89 |
| May 16 | 86 |
| May 21 | 83 |
| May 26 | 80 |
| May 31 | 77 |
| June 5 | 75 |
| June 10 | 71 |
| June 15 | 65 |
(click to enlarge)
South Dakota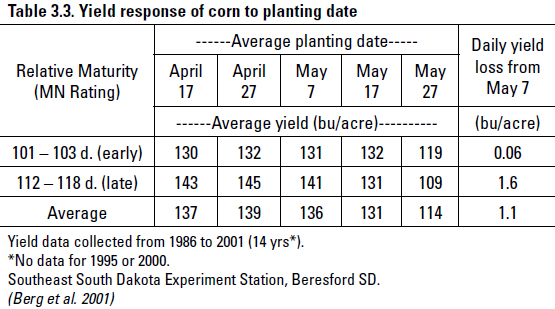 Other States: Find corn planting date advice and information for these states:
---