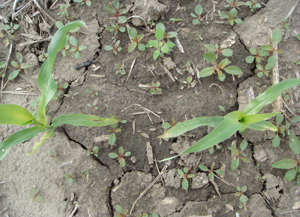 By Jennifer Shike, University of Illinois
Wet Corn Belt conditions have complicated many herbicide plans and some corn fields were planted before a planned soil-residual herbicide could be applied.
 
University of Illinois weed scientist Aaron Hager says if the corn has not yet emerged, the application can proceed as originally planned.  But what if the corn has begun to emerge? Can the soil-residual herbicide application go on as planned, or will a different product need to be selected?
 
The answer depends on the herbicide. Many, but not all, herbicides frequently applied prior to corn planting or emergence can be applied after the corn has emerged. 
 
"Even if a soil-residual herbicide can be applied after crop and weed emergence, not all soil-residual herbicides will control emerged weeds," says Hager.  "So additional management procedures such as the addition of an herbicide with postemergence activity, may be needed in situations where weeds also have emerged."
 
Read product labels for answers on the need for tank-mix partners or spray additives to improve control of existing weeds. There is potential for enhanced corn injury if these products are applied during periods of crop stress, such as stress caused by excessive soil moisture, cool air or soil temperatures, Hager notes.
 
"Depending on the herbicide, tank-mixing other products or including various types of spray additives may be necessary to control existing weeds, but this may also increase the potential for corn injury," he says. "Attempting to save a trip across the field by applying an herbicide with a liquid nitrogen fertilizer solution, such as 28 percent UAN, as the carrier is not advisable if the corn has emerged."
 
Remember that soil-residual herbicides must be moved into the soil solution to be available for uptake by weed seedlings. An herbicide that remains on the soil surface after application and is not moved into the soil profile by precipitation or mechanical incorporation may not provide adequate residual weed control. 
 
Want to see how various herbicides perform in the field? Head to Champaign, Ill., June 29 to the Weed Science Field Day at the University of Illinois Crop Sciences Research and Education Center in Urbana. Crop enthusiasts can participate in an informal guided tour to view research plots while interacting with weed science faculty, staff and graduate students.
 
It's a great way to compare your favorite corn and soybean herbicide programs to other programs and get an early look at new herbicide active ingredients. The event costs $10 and starts at 8 a.m. at the Seed House located at the university South Farms. No pre-registration is required.