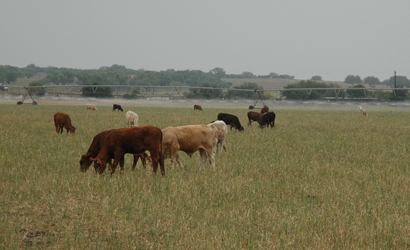 Record-low hay acreage, winterkill, and a delayed growing season are creating concern about how high alfalfa prices will need to climb to ration supplies and whether animal numbers will need to be reduced further.
As of May 1, on-farm hay stocks of 14.16 million tons fell to levels not seen since recordkeeping began, according to USDA's Crop Production report released late last week.
Current hay stocks are 34% smaller than a year ago and have declined by more than 50% in several key dairy states, including Wisconsin, New York, Ohio, and Michigan. Hay stocks have also fallen dramatically in Minnesota and Pennsylvania, down 46% and 33%, respectively.
An estimated 20% of Upper Midwest dairy producers do not have enough forage to make it through to first cutting alfalfa, says Dan Undersander, forage agronomist with the University of Wisconsin.
"In southern Wisconsin, first cutting is two to three weeks late, and hay is just starting to come out of dormancy in the northern part of the state," he says. Northern Wisconsin has also lost about half of its hay acreage to winterkill.
Further south, however, pasture conditions have improved. Missouri pastures that were yielding 70 pounds of dry matter per acre per day during the first week of May were producing twice that a week later, reports Rob Kallenbach, University of Missouri forage specialist.
West of Missouri, however, drought remains a concern. In western Nebraska, hay movement was basically at a standstill this week. "Supply is very tight across all classes of hay," says Heather Veltri, market reporter for Hay Market News. "People are looking for Conservation Reserve Program hay, and hay is being purchased on an as-needed basis."
Pasture and range conditions in Kansas and Nebraska were 60 and 69% poor or very poor, respectively, as of the week ended May 12, according to this week's Crop Progress report.
The nation's drought extends to the Pacific, with all of California now reporting moderate to severe drought conditions. Southern California hay growers have been battling aphids, and some hay producers have reported losses of up to 80%, says Veltri.
In California's Central Valley, some hay growers are already sold out of first-cutting alfalfa. It's too early to know which way hay prices are heading, says Veltri. Supreme-quality alfalfa was selling for $240-250 per ton in the Merced area this week.
Last week in Minnesota, supreme-quality alfalfa sold for as much as $450 per ton at auction.
 
---