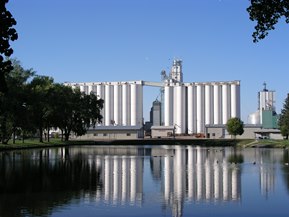 Washington--David Fiebiger watched the collapse of trading company MF Global and understood the need to increase regulations in commodities markets. He just didn't think the misdeeds of a big firm would have much effect on him or his Finley, N.D.-based operation.
The 37-year-old Fiebiger is the general manager of Finley Farmers Grain and Elevator, which does about $150 million in business annually with roughly 200 farms in a 40 mile-radius of the elevator. Fiebiger is active in commodities markets — not to speculate, he says, but to hedge risks for his operation and clients.
But that would be virtually impossible, he said, if new regulations take effect.
Last year, the Commodities Futures Trading Commission put in place new regulations designed to prevent the type of speculation that led to the collapse of MF Global, a major global derivatives firm that went bankrupt in 2011. The CFTC's rules included language that will eventually require people trading commodities futures to fully cover the amount of their contracts by the morning of the day following a trade.
Fiebiger — and many members of Congress — say that would eventually lead commodities brokers to require much higher initial payments for trades, pricing smaller operations out of futures markets they use regularly to hedge their risks.
"I think it's a bit of a misfire," Fiebiger said. "It comes down to a cash flow issue. In the wrong type of marketplace, this requirement might mean I'm borrowing money to do my daily business because I have so much money tied up in futures markets."
Congress has noted the complaints of farmers and operators like Fiebiger and is trying to scale back the regulation. In June, the House passed a bill reauthorizing the CFTC but with language that would scale back the new requirement, giving futures customers an extra day to get payments to brokers. And earlier this month, U.S. Sens. Heidi Heitkamp, D-N.D., and Pat Roberts, R-Kan., introduced a related bill with a similar idea for CFTC's reauthorization.
It's not clear if the Senate's version of the bill will get a vote before Congress recesses for the summer. But Congress could also consider it in a lame duck session. Heitkamp said there is a strong desire to prevent the regulations from going into effect.
"This is a system that has worked pretty well in spite of a couple of glitches and a couple of bad actors," Heitkamp said.
Under current requirements for trading, CFTC regulations require trades to be paid in three days. Under the new rules, set to go into effect in November, customers would be required to pay by 6 p.m. on the day following the futures trade. But within four years, according to current rules, that would then be shifted to the next morning.
Outside groups, such as the National Grain and Food Association, have estimated that the long-term requirements would lead to farmers and elevator operators putting as much as twice as much money toward their futures accounts up front. That would make it cost-prohibitive to use the futures markets as a way to hedge risks.
For Fiebiger, having until 6 p.m. the next day is important and preserves his ability to be nimble in the futures market and manage his risks. Without changes, he said, the CFTC's rules would require him and other small operators to "pre-margin" their accounts, or put sums of money in accounts they use to manage their trades without actually knowing if they plan to trade on a given day.
"Rather than paying what is due, when it's due, this requirement would mean you would have to put money down ahead of time of and make assumptions about how much money we're going to spend on a given day," he said.
For a small business like his — which has about 30 employees — that can lead to cash flow issues or managing when he makes investments in his business.
"In some ways we've upped the risk factor," he said. "Not only can I not use that money if this goes into effect but, man, now I'm a little bit more nervous about my money. It's in a trader's bank account in Minneapolis or Chicago instead of me having control of it."