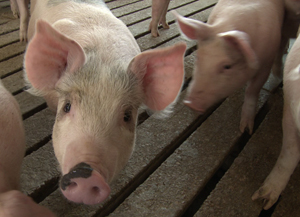 While porcine epidemic diarrhea virus has caused both physical and emotional damage, the silver lining is that it's bringing increased attention to biosecurity importance.
Porcine epidemic diarrhea virus (PEDv) has hit the nation's swine herd hard. Eight million deceased pigs later, the pork industry is still baffled as to how the virus even entered the U.S.

National Pork Producers Council (NPPC) President pointed out during World Pork Expo in Des Moines, Iowa, this week that even though PED has caused both physical and emotional damage, it could have been worse. He says the silver lining to the virus is that it's bringing increased attention to biosecurity importance.
Watch the full AgDay report:
One of those individuals working hard on future outbreaks is Hank Harris, president and CEO of Harrisvaccines. Even though his lab is remotely located in Ames, Iowa, the work being done behind the doors is nothing short of impressive. Not only has Harris already created a vaccine for porcine epidemic diarrhea virus (PEDv), but he's also trying to find answers to a more fatal foreign disease before it even occurs.
"We're very interested in working on other foreign animal diseases, and before PED occurred, we were underfunding for foot-and-mouth disease (FMD)," says Harris. "So, we've conducted efficacy studies with USDA for FMD for both cattle and pigs."
With a vaccine already created for FMD, and one under development for Porcine Reproductive and Respiratory Syndrome (PRRS), he's been working closely with USDA.
"I would say in the last two to three years that the USDA has been very cooperative as far as getting vaccines approved," he says.
It hasn't always been that way, and Harris says that's partially because his technology is so new.
"If there's a new disease, like PED, then we take specific genes from the PED, off the Internet, and take the gene sequence, and have it synthesized," he explains. "Then, we place that gene into the Alpha virus platform."
Harris' biggest challenge today is overcoming perception, as many veterinarians and large producers continue to doubt he can make a successful vaccine with a sequence off the Internet. Harris says it's that technology that allows him to break ground on new vaccines so quickly.
"We can make a vaccine and switch out the gene in about four weeks," he says. "So, with other technologies it may take a while to change the nature of the vaccine, but it takes us about four to six weeks."
Harris says currently viruses of foreign animal diseases aren't allowed with the U.S. borders. So, his new technique allows him to create the vaccine without ever touching the live virus.
"But to actually test them for efficacy, we have to send them to the government, to Plum Island, to be tested, or to a foreign country," he says.
Meanwhile, Michigan pork producer Erin Ehinger has fears of what a more severe virus could do to her farm, and she wishes a response to PED would have happened quicker.
"There has been progress made, but if you talk to producers and vets, everyone has a different recommendation, so there is still a lot of unknowns as to what is the right thing to do and what is the best thing for the future," she says. "So, I think overall, we wish people would have come together better, and so we would have some more solid answers at this point.
Harris knows the pressure is on to not only have a successful answer for PED, but possibly save the U.S. herd from future outbreaks. And it's a challenge he's working on every day.
"We want to make sure we have the best vaccine we can, and we want to try and save as many pigs as we can," he says.
Meanwhile, USDA announced Thursday that it would pledge $26.2 million in funding to combat porcine epidemic diarrhea virus (PEDv) and porcine deltacoronavirus (PDCoV), and issued a federal order requiring new detections of these viruses to be reported to animal health officials.
"The industry is already seeing herds previously impacted by the virus become re-infected, and routine and standard disease reporting will help identify the magnitude of the disease in the United States and can help determine whether additional actions are needed," according to a USDA press release.
Hear more about this issue on AgDay and AgriTalk and Market Rally, as they report from World Pork Expo.