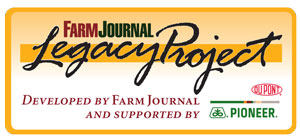 By Johnne Syverson
Are you like many farm families who have concerns about your farm and family staying together for future generations? 
Your concerns are well-founded when 90% of family farm businesses do not make it through the third generation. But, with proper planning, there is no reason you can't become part of the 10% who maintain harmony and continue their farm's legacy.  

So, what will it take? You can hire the best legal or financial brains to help you write estate and financial plans. But your family's harmony still might fall apart. To counter this possibility, The Heritage Institute (THI) based in Portland, Ore., developed the Heritage Planning Process. The THI founders spent two years researching what the 10% of successful families did differently than the 90% whose harmony and wealth fell apart. 

Some shared characteristics of successful families include:  
good communication and trust
shared and clear vision
regular non-business meetings 
a balanced view of "wealth," which includes more than money
separation of business and family
defined roles for each person
train and mentor each generation
facilitate the genuine transfer of leadership within the family 
After identifying the common elements that sustain family harmony, wealth and unity across generations, THI developed a six-step process for families to implement.
1. Initial Conversation: A Certified Heritage Design Professional (there are 60 in the U.S.) meets with the clients for 90 minutes to determine if the family and process are a good fit. 
2. Guided Discovery: This interview process helps identify and articulate the family's story, principles, goals and life lessons. This is a much different process than the fact-finding interviews that financial and legal professionals conduct. It produces the raw material to create your family's Heritage Statement.
3. Heritage Statement: This written document explains the family's story, values, principles, goals and life 
lessons in a way that can be passed on and enhanced through generations. 
 
4. Passing Your Heritage: The family's story is transformed and integrated into the existing financial and estate plans. This includes working with all key advisers.
5. Heritage Day and Ongoing Family Councils: These events provide an opportunity for family leaders to pass the family's story to the next generation and prepare them for their future emotional and financial inheritances.
6. Living Your Heritage: Through repeating the annual Heritage Day, the family will grow into developing their own routine for improving their communication and trust, which are the most important elements for maintaining family wealth and harmony.
The Henry family from Nevada, Iowa, is going through this process. "Everyone felt our Heritage Day was worthwhile," says Steve and Laurie Henry, Longview Farms. "Our young adult children are looking forward to their assignments for the next year, and they are taking them seriously." 

Their children are excited to learn and develop the skills necessary to continue operating the farm and the family the way the parents desire.  

"This vehicle is important for our next generation to begin assuming 'family' responsibilities, especially for those who are not active in the farming operation," the Henrys note. "The process is good for our family." 

For more information, you can visit www.theheritageinstitute.com.