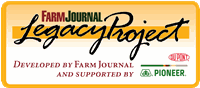 Q I have worked in our local ag community for several years, and I've always been passionate about production agriculture. Since I wasn't fortunate enough to grow up on a family farm, the stars would have to align just right for me to fulfill a lifelong dream of owning a farm.
As a local seed dealer, I know several farmers who have no children to take over in five to 10 years. Can you give me pointers on how to approach these folks with an opportunity to forge a possible mentor-protégé relationship and eventually a business partnership with them?
A good working relationship is based on mutual respect and absolute trust
---
A First and foremost, don't give up and don't compromise your ideal. We need farmers who care as deeply about farming as you do.
In the meantime, the key to success for the transitioning  (retiring) farmer and the aspiring farmer is to form a good working relationship based on mutual respect and absolute trust. Like a marriage, it takes time to nurture a lasting relationship.
To start the conversation with a prospective transitioning farm owner, ask the following questions and see where the discussion goes:
What have you done thus far about succession?
Would you like to know the operation will continue long after your time?
Have you ever considered mentoring a next-generation farmer?
Will you entertain the idea of working with me so I can learn more about your operation and creating a succession plan that allows us both to satisfy our goals?
When can we meet again to further explore our options?

Action plan. Consider the following steps to determine a suitable match and then reach common goals:

1. Get to know each other. The transitioning and aspiring farmers should exchange summaries of who, what, why, how and when they intend to transition. In doing so, ask yourself, "Is this the type of person I'd like to work with? Does he offer the qualifications and experiences necessary for a longterm relationship?"

2. Interview candidates. As in a job interview, a series of structured visits can help establish good lines of communication and allow both parties to become better acquainted.
3. Make a selection. Compare and contrast one opportunity to the other, eliminating those that do not hold interest and doing more research on those that do.
4. Internship to ownership. Consider starting with an internship and then gradually moving to an ownership position. For both the aspirant and transitioning farmer, an internship allows the relationship to be tested with minimal risk.
5. Create a professional development plan. Include educational and experiential conditions as well as an outline of the mentorprotégé relationship, complete with responsibilities and roles.
6. Look at the numbers. Don't be lured by emotion about the opportunity. Sometimes the best deals are the ones not done. Be objective and compare the opportunity to your goals to ensure it measures up.
7. Learn everything you can about the person and the opportunity. Don't underestimate the effects a good relationship can have on your longterm success—or the ways in which a bad relationship can erode trust and hamper success.
8. Write a detailed business plan and share it with others. Working together on a business plan, the aspiring farmer and the transitioning farmer will learn more about each other and future possibilities for the operation.
To access a library of tools to aid in the succession planning process, visit www.farmjournallegacyproject.com/tools
Kevin Spafford serves as Farm Journal's succession planning expert. His firm, Legacy by Design, guides farmers and agribusiness owners through the succession planning process. Send questions and comments to Legacy by Design, 2550 Lakewest Drive, Suite 10, Chico, CA 95928, (877) 523-7411 or legacyproject@farmjournal.com.