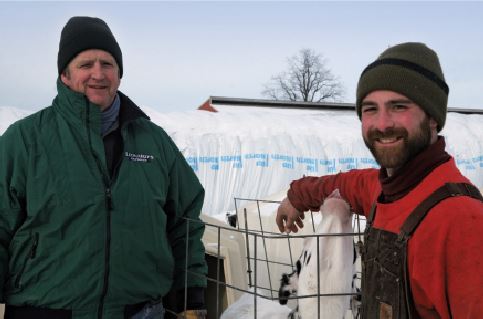 Why putting faith in an untested, non-family, suburban "kid" paid off for New York's Fa Ba Farms
John Knopf is proud of his dairy's prosperous, three-generation family heritage. But when his children chose not to farm and his expanding business begged for more manpower, he took a chance on young Bob DiCarlo.

"What he knew about farming, he learned in a classroom," Knopf says. "But Bob was smart. He was a hard worker, and he really wanted to learn. Now he's learning how to run a business in the 'arena.' It's a lot tougher."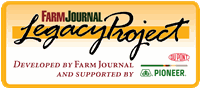 What enticed DiCarlo to Fa Ba Farms was Knopf's clear vision for growth. DiCarlo worked there intermittently during college at Cobleskill State University of New York and Cornell University. He had explored opportunities at a variety of other dairy operations as well—some four to five times the size of Fa Ba Farm.

I realized I could be part of building something here," he says.

That was 2006, and Knopf was a little fried. He had spent the 90s and the first few years of the new millennium transforming a 60-cow tie stall to a 250-head freestall operation. The investment, sacrifice and endless hours took a toll.

"Dad and I were partners, and we were not all that unsuccessful with the transition," Knopf says, "But I was in my 40s—too old to generate the 'expansion energy' you need. Those years about cooked me."

Knopf knew he needed a young guy on his team.
So, with pockets stuffed full of risk and faith, Knopf, 53, and DiCarlo, 30, got started.

What they agreed on was pace. "We were building efficiencies, scale and capacity for cows first, but it was not going to be a sprint," Knopf says. They milked for years in a flat barn before erecting a parlor. Bunk silo walls were way down the "to do" list.

"There was always a plan in place, moving us forward slowly," DiCarlo adds. "It was unwritten, but we talked about it all the time and knew it was the reason we were working so hard."

Where they differ is style. Knopf thinks fast, talks fast, his office a landscape of high-rise paper piles. DiCarlo is a more reflective thinker, master of the details, setting goals and creating protocols to constantly monitor progress in the herd.

"We are opposite types," Knopf says. "But time is such a great teacher, and I think we are both evolving."

Conflict and disagreement are necessary, they say, or new ideas would lack the polish brought on by the friction of debate.

DiCarlo earned his partner's stripes four years ago. At 10%, he's a minority owner, but "becoming a partner is a pretty big thing in itself," he says.

Knopf made it clear from the start that an equity holding could become a reality. DiCarlo would achieve that goal solely on his merit—unlike family members who, Knopf says, are often "anointed."

So the young man faced and crossed the proving ground, a humbling gauntlet of decisions, actions, wins and losses—all in the name of "getting some experience."

Their legal partnership agreement dictates yearly profits are split by ownership. DiCarlo earns a certain percentage more—a "kicker"—to  reflect his efforts. This, and the profit splits, can be adjusted over time.

"Bob is compensated more for his labor since he's basically handling all the operational aspects of the dairy now, and I still carry more of the risk," Knopf explains.
Fearful of jinxing what they've worked so hard to achieve, DiCarlo and Knopf say "So far, so good." Right now, it feels like a success.

"I'm satisfied with Bob's progress," Knopf says. "His capabilities are way beyond mine when I was that age." Further, Knopf says DiCarlo's role in their 500-cow, 800-acre business has significantly improved his life.

"For the first time, I'm freed up to attend classes like The Executive Program for Agricultural Producers (TEPAP) and serve on the Farm Credit board. I believe participating in these off-farm things brings some residual value to the business," he says.

Knopf concentrates his energies on outside duties and fieldwork at the farm now, responsibilities he truly enjoys. He's also trying to learn how to be a better coach for DiCarlo.

"He's better at that than when I first came," DiCarlo says. "Maybe it's because he's no longer overwhelmed by all the day-to-day stuff on the dairy."

DiCarlo says he would like to learn to speak his mind more often, as well as become a better people manager. "Cows I have figured out. People—not so much," he says with a wry smile.
While the transfer of ownership from John's dad was relatively simple, the next turn over will be much different. "I fully expect to discount (values) when I sell out," Knopf says. "I don't want to rob the next generation."

The partnership is a great way to respect the legacy of a family farm when there are no more relatives to run it, Knopf says. And it's a good way for a young person to get started. "I wouldn't hesitate to do it all again," he says.