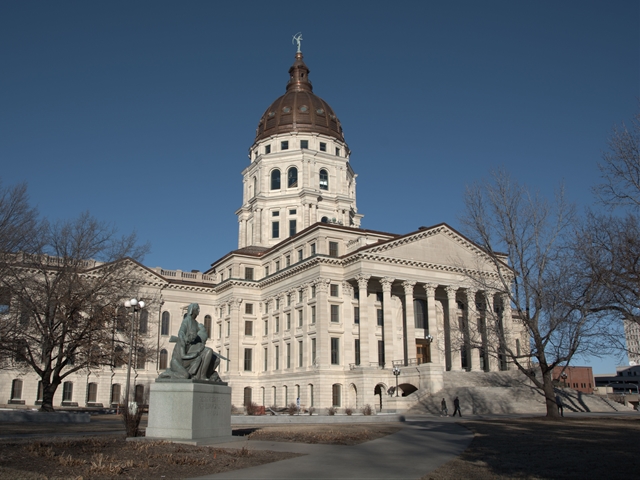 By Scott Aust, The Garden City Telegram, Kansas
State Sen. Larry Powell said Tuesday there appears to be a war on farmers going on in the state legislature this year, referring to bills in the state senate that would increase property taxes on agriculture land and put a sales tax on farm machinery.
"There's a lot of concern about Senate Bill 178, which is raising property taxes on farm ground, according to some by 400 percent. I don't think that bill will go anywhere. There's also a bill to put a sales tax on farm machinery (SB 264), which is exempt right now. That exemption came about because a lot of people were going out of state and buying farm machinery," Powell said.
Powell and state Reps. John Doll and Russ Jennings spoke to the Garden City Commission during a meeting before the commission's regular Tuesday business meeting. The city invited local legislators to provide a legislative update before lawmakers return to Topeka for the second half of the legislative session.
Jennings appreciated Powell's comments about the war on farmers and agriculture.
"I suspect on some level that those who are suggesting adjustments on assessed valuation processes for ag land may have done so more with the idea to ratchet up pressure for other tax policy issues that will come up as we go through this process," Jennings said.
Commenting on the farm machinery tax bill, Commissioner Dan Fankhauser said it would hit implement dealers in Garden City and would send people to Colorado, Nebraska or Oklahoma to buy their tractors.
"That's exactly right," Powell said. "I've got a lot of letters, emails from implement dealers, and read an article where they interviewed a bunch of them. I just hope that something like that doesn't happen because it would be a big deal."
Powell said there are a lot of other things that are exempt from sales tax. If the state is going to reduce the total sales tax, they need to make it a lot broader and not just target one industry, he said.
All three agreed the biggest issue in Topeka is the budget shortfall. Jennings noted that there is more than a $600 million gap between Gov. Sam Brownback's budget and expected revenues.
"Clearly, we'll have to adopt a budget, and then we're going to have to figure out how to pay for it. That probably won't happen until sometime in May, or early June, or the Fourth of July. It's going to be hard to find the votes, in the House particularly, to adopt budget and tax policy," Jennings said.
City Manager Matt Allen asked, given the agreement that the budget is the top issue, why has there been such a rush of bills that don't have anything to do with state government.
Powell said every bill in the Legislature can't be a tax bill or a budget bill.
"There are always policy bills that people want ... to either try to make things better or save money. There's always policy things that need to be handled," he said.
Doll expressed frustration with how many unrelated laws are proposed, especially from Republicans, a party that has long decried regulation.
"One of the things they talked about was less regulation is the best regulation. We seem to pass, with heavy Republican (support) more dadgum regulations and bills and laws. I suggested to the Speaker of the House I think what we need is Law-Go. For every law that you pass, you have to find one to get rid of before even considering a law," Doll said.
Jennings said it's also frustrating to see things that have come up that infringe on local units of government, as if members of the state legislature have a better idea of what people need in Garden City.
"You're certainly much more accountable than any of us," he said.
Regarding tax policy, Jennings said there have been no serious discussions, testimony or debate on any tax issue in the House, and probably won't be any until there's a framework for a budget.
"I expect then we'll see how we pay for that budget. All of these things in tax committees are locked up until we get to that point, so I wouldn't expect to see a lot of movement until the very end of the session," Jennings said. 
Are your state's legislators looking at tax increases that would affect farmers or ranchers? Let us know on theAgWeb discussion boards.