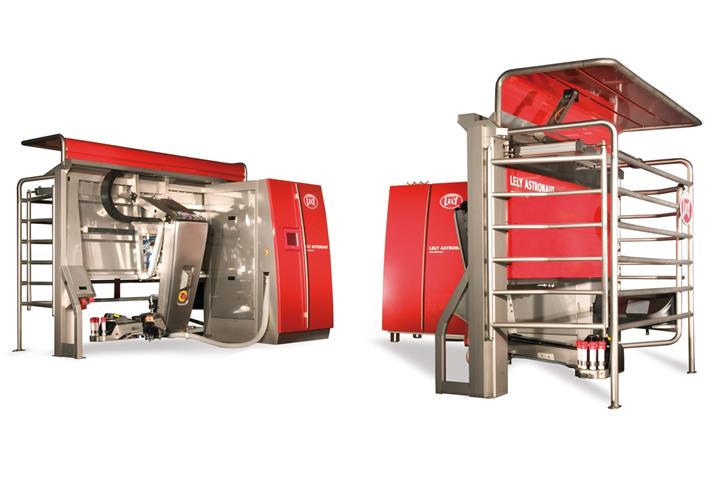 To celebrate, the first 50 Lely Astronaut A4 robotic milking systems ordered in Canada for 2015 delivery will include a free MQC-C2 installed for accurate milk-quality monitoring.  
Source: Lely
Pella, Iowa — More than 1,000 Lely Astronaut robotic milking systems have been sold in Canada. To recognize this milestone, Lely is offering a special limited edition version of its A4 milking robot. Starting this month, the first 50 Lely Astronaut A4 robotic milking systems that are ordered in Canada for delivery in 2015 will come adorned with a limited edition commemorative maple leaf and a free MQC-C2 installed for accurate monitoring of milk quality. 
"We're very proud of this milestone and the accomplishments that have taken place in Canadian dairies," said Peter Langebeeke, president of the North American division of Lely Industries. "No one offers more comprehensive knowledge and experience in automated milking than Lely, and more dairy producers are benefitting from Lely's commitment to enhance productivity, reduce overall operating costs and increase profitability through better herd management."
More than 20 years ago Lely introduced the very first milking robot worldwide, the Lely Astronaut. Although the system has been improved in numerous ways, the Astronaut offered today is still based on the same proven ideas. The Lely Astronaut improves quality of life for dairy producers while safeguarding optimum animal welfare and a return on investment. Producers benefit from a unique set of management instruments for monitoring milk quality and the feed/milk conversion ratio for the individual cow or complete herd.
"If you've been thinking about robotic milking or expanding your operation, now is a great time to check out the Lely Astronaut A4 robotic milking system," said Langebeeke. "We're pleased to have a robot in every Canadian province and more than 1,000 Lely Astronauts already sold in Canada. This is a great way to celebrate this accomplishment as we look ahead to more robotic installations."
Bruno Ross and Tasie Fortin operate a dairy near Saint-Joseph-de-Kamouraska, QC. When two Lely Astronaut A4's were purchased for their operation, the main objective was to produce more milk from their herd with minimum labor.
"Since we went from a constrained barn to a free-stall barn, the initial objective was to take a year to transition the animals," said Fortin. "However the transition was done in a month. All the cows were quickly accustomed to their new environment and robots."
Positive results included higher milk production and more milkings per day. "Cows have quickly found their routine. They are free, quiet and apparently happier," Fortin said.
Learn more about the 50 limited edition Lely A4 Astronaut models now available from your local Canadian Lely Center. Lely Center dealer locator and Lely dairy industry innovation information are found on Lely's website, www.lely.com, or by calling 1-866-LELY-USA (U.S.) or 1-877-LELY-COW (Canada). You may also visit Lely's Facebook page (Facebook.com/LelyNorthAmerica), Twitter page (@DairyRobot) or blog at www.lelylife.com. To watch videos featuring Lely's products, visit http://www.youtube.com/lelydairylife.