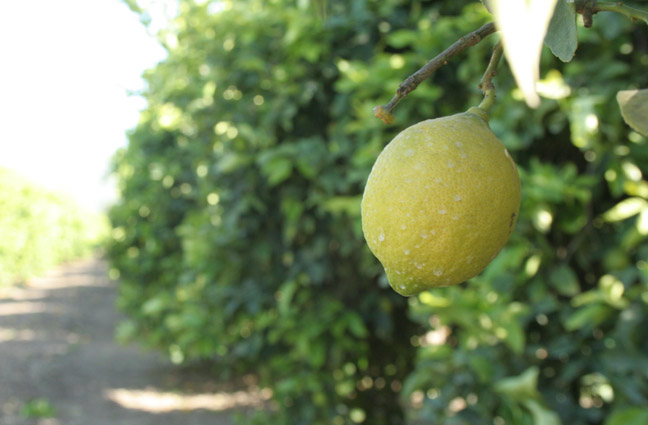 At a time when big Midwest grain crops are contributing to lower global food prices, the lack of rain in the nation's biggest agricultural state is boosting costs for fresh fruits.
Sept. 23 (Bloomberg) -- First it was the surge in beef prices, and then seafood went through the roof. Now you can add lemons to the growing list of ingredients cutting into profit on the menu at Joe's Seafood, Prime Steak & Stone Crab.
The three Joe's restaurants, in Washington, Chicago and Las Vegas, use more than 800 lemons a day sliced as garnishes on entrees or juiced for drinks and sauces. A case of 165 lemons costs managing partner Mike Rotolo about $50, up from $30 to $35 in the past year, and many are less juicy than normal.
"This is the worst I've seen, and I've been at it for at least 25 years," Rotolo said by telephone from Chicago. "We're fighting costs on all fronts, with seafood, prime steaks. If we changed our menu every time we had a spike in one of the items we're buying, it's just impossible."
A prolonged drought in California, which grew 91 percent of U.S. lemons this year, contributed to a surge in costs. Wholesale prices almost doubled from a year earlier, and retail lemons are up 36 percent to $2.327 a pound in August, the highest since the Bureau of Labor Statistics began tracking them in 1980.
At a time when big Midwest grain crops are contributing to lower global food prices, the lack of rain in the nation's biggest agricultural state is boosting costs for fresh fruits. The U.S. Department of Agriculture forecasts an increase of 5 percent to 6 percent this year, matching expected gains in meats and eggs. Smaller U.S. livestock herds sent retail beef and pork to records this year, and a USDA shrimp index is up 24 percent in a year and the highest since the data starts in 1991.
Food Costs
Overall food prices this year will rise 2.5 percent to 3.5 percent, up from 1.4 percent in 2013, with the California drought potentially having "large and lasting effects" on produce, dairy and eggs, the USDA said in an Aug. 25 report.
Domestic lemon production in the year ended July 31 tumbled 8.8 percent to 832,000 short tons (754,800 metric tons), while the surge in prices boosted the value of the crop by 62 percent to $647.7 million, USDA data show.
The output decline reflects smaller fruit as a result of the dry spell, said Bob Blakely, vice president for California Citrus Mutual, an industry group in Exeter. The entire state, which is the largest U.S. fruit and vegetable grower, was in drought as of Sept. 16, with more than half the area getting the worst ranking possible by the U.S. Drought Monitor.
The crop also was hit by a freeze beginning in December that damaged crops in the San Joaquin Valley, causing $24 million in lost revenue, California Citrus Mutual estimates.
Lime Boost
California farmers harvest lemons almost year-round, with the majority coming from coastal counties including Ventura, north of Los Angeles, and prices tend to rally in the warmer summer months when demand increases for lemonade and citrus flavors in grilling and salad dressings.
Lemon sales got a boost this year when the price of limes tripled by May for some buyers, after crop damage in Mexico, the biggest supplier to the U.S., left tight supplies. Some bars and restaurants began substituting lemons in drinks and menu items just before consumption was beginning its seasonal peak, said Kristy Plattner, an agricultural economist with the USDA's Economic Research Service in Washington.
The price rally was a boon to growers. Limoneira Co., which farms 4,000 acres of lemons in California and Arizona, got about $24 on average for each 40-pound (18.1 kilogram) carton sold in the fiscal year that ends next month, according to Chief Executive Officer Harold Edwards. That's up 50 percent from $16 a year earlier.
Profits Rising
About 75 percent of operating agribusiness profit will come from lemons this year, up from 42 percent last year, even as production falls shy of forecasts because of the freeze and dry weather, Edwards said. Limoneira also grows oranges, avocados and specialty citrus including mandarins and grapefruit.
"This has been by far our most profitable lemon year," Edwards said by telephone from Santa Paula, California.
The lemon rally may not last. Wholesale prices already are down in the past week as supplies from areas less-affected by drought increase, said Steve Jarzombek, vice president of produce procurement and merchandising at Roundy's Inc., which operates 148 supermarkets in Wisconsin and Illinois under four brands, including Pick 'n Save and Mariano's.
While prices were up in July and August, finding larger lemons has become easier for Milwaukee-based Roundy's and demand is waning from the summer peak, Jarzombek said.
"We're on the downslope with costs on lemons," he said in a telephone interview. "It wasn't a long-term concern."
Cheaper Limes
The crisis in lime supply also has eased for some restaurants, with costs "almost back to normal," said Alfredo Sandoval, the owner of Mexican restaurant Mercadito Chicago, which uses the fruit in drinks, including margaritas.
California's drought should ease by the end of December in the southern third of the state, though it may worsen in northern and central areas, the National Weather Service forecasts.
The growing popularity of lemons used by consumers, restaurants and beverage makers has boosted demand to an all- time high, according to Sunkist Growers, a marketing cooperative that sells fresh fruit from thousands of California and Arizona citrus growers.
Lemon-flavored ingredients on food-service menus climbed about 11 percent between the second quarters of 2011 and 2014, as restaurants used more in salad dressings, butters and sauces, according to Mintel Group Ltd.'s Menu Insights database.
That's creating a higher floor for prices, said Limoneira's Edwards. The company, which has been in business since 1893, plans to more than triple annual lemon production to 10 million cartons within eight years, he said.
"As production stabilizes and comes back into norm, we're very, very pleased in that we're not seeing our pricing fall as dramatically as we once thought it would," Edwards said. "We continue to be very, very bullish on the future consumption of lemons."