Warren Buffett tells all with secrets of business excellence
The stage is set. Nearly every seat in the bustling arena is filled. The main act hits the stage, and the crowd erupts with cheers and a standing ovation.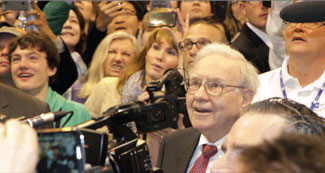 CEO Warren Buffett of Berkshire Hathaway isn't afraid to seek help. "It's a question of being self-realistic in your own talents and shortcomings," he says.
You might not expect the duo of gray-haired men ages 84 and 90 to draw such a devout and excitable crowd. Yet, the two aren't normal. 

Warren Buffett and his sidekick, 50-year business partner Charlie Munger, are two of the smartest minds in investing. Buffett is considered the fourth-richest man in the world with a net worth near $70 billion. His business theories and practices are simple and can be applied to multiple industries, even farming. 

"In investing," Buffett explains, "it is not necessary to do extraordinary things to get extraordinary results." 

Known as Warren to his fans, Buffett drew nearly 40,000 people to Omaha, Neb., this year for the 2014 Berkshire Hathaway Annual Shareholder's Meeting, sometimes called "Woodstock for Capitalists." He shot from the hip, revealing lessons top producers should consider.
Lesson #1: Define Your Circle of Competence. Buffett believes that to make money in an industry, you must first understand it fully. As the leader and largest shareholder of Berkshire Hathaway, a holding company that oversees and manages a number of subsidiary companies, he's had exposure to an array of businesses, including Dairy Queen and Burlington Northern Santa Fe. 

"When you know what you know and what you don't know, it takes you a long way in the business of life," Buffett notes. "It's a question of being self-realistic in your own talents and shortcomings."

It shouldn't be difficult to identify people in your circle, Munger adds. 

"If you're 5'2", you don't have much future in the NBA, and if you weigh 350 lb., you shouldn't dance ballet," he says. 

Buffett is known for having two rules. Rule No.1 is never lose money. Rule No.2 is never forget rule No.1. Risk analysis and scenario planning are common practices at Berkshire Hathaway and its subsidiaries. "All businesses should constantly be thinking about what could mess up their business model," Buffett says. 

Even with their stellar track record, Buffett and Munger are quick to acknowledge shortcomings. "We have a lot of weak points, and we point them out," Buffett says. 

Berkshire Hathaway's goal is to buy a good business and not interfere with its management. "But there will be times when our lack of supervision will miss something," Buffett acknowledges. With that in mind, all managers are required to provide a letter outlining what Buffett should do if something happens to them. 
Lesson #2: Set A Good Example. Buffett is well-known for his frugal nature and admirable reputation. He still lives in the same Omaha house he bought in 1957, and the bulk of his fortune is earmarked for charity.  

"Warren Buffett is an example that honest and ethical business is the right way to do business," says Andy Kern, an assistant teaching professor of finance at the University of Missouri. Since 2005, Kern has taught a course titled "The Investment Strategies of Warren Buffett." Students identify the characteristics of businesses in which Buffett and Berkshire Hathaway invest, and they make a trek to Nebraska for a question-and-answer session with the Oracle of Omaha. 

Buffett loves visiting with students, who come from a handful of universities around the globe. The students enjoy the interaction, too. "Most students are curious about Warren Buffett when they start the class, and most are super-fans when they complete it," Kern explains. "They learn that being a down-to-earth person actually helps you in the investment industry and that being from the Midwest could work to their benefit."
Lesson #3: Initiate a Seamless Succession Plan. The subject of who will succeed Buffett has created plenty of buzz. Today, he serves as chairman, president and chief executive for Berkshire Hathaway. Instead of one person replacing him, his job will be divided into three. Candidates and backups for each role have been identified.

"When a transfer of responsibility is required, it will be seamless," Buffett wrote in his 2011 letter to the company's shareholders. 

Although Buffett has a plan for these positions, he worries about another role. "They always talk about replacing me, but they never talk about replacing Charlie," he notes. "Whoever replaces me as CEO will develop someone they work with very closely, which is a great way to operate. Berkshire is better off because the two of us work together than if either of us would have worked by ourselves."

Buffett says working together will bolster the new CEO's achievements and increase the fun of the role. 
---
How The Oracle Of Omaha Makes Investment Decisions
A review of Warren Buffett's purchases over time reveals tenets that guide his investment decisions, writes Robert G. Hagstrom in his book "The Warren Buffett Way." Hagstrom is a best-selling author and chief investment strategist of Legg Mason Investment Counsel. He writes that Buffett's rules include:
Business Tenets
Is the business simple and understandable?
Does the business have a consistent operating history?
Does the business have favorable long-term prospects?
Management Tenets
Is management rational?
Is management candid with the shareholders?
Does management resist the institutional imperative?
Financial Tenets
Focus on return on equity, not earnings per share.
Calculate owner earnings.
Look for companies with high profit margins.
Create at least $1 of market value for every $1 retained.
Market Tenets
What is the value of the business?
Can the business be purchased at a significant discount?
---
Wisdom From Warren Buffett
"Cash and credit is like oxygen. You don't notice it 99% of the time, but IF IT'S ABSENT YOU NOTICE IT STRAIGHT AWAY."

"Long ago, Ben Graham taught me that "PRICE IS WHAT YOU PAY; VALUE IS WHAT YOU GET." Whether we're talking about socks or stocks, I like buying quality merchandise when it is marked down."

"I try to buy stock in businesses that are so wonderful that an idiot can run them, because SOONER OR LATER, ONE WILL."
---
Warren Buffett's son, Howard G. Buffett, is an Illinois farmer and a philanthropist. He will serve as the next chairman of Berkshire Hathaway Inc., where his primary role will be to foster Berkshire's culture and values. He spoke during the 2015 Top Producer Seminar. Read the top takeaways from his presentation:  A Conversation with Howard G. Buffett
Also, read the latest on Warren Buffett's thought on his succession plan: Buffett Sees Son Howard as 'Safety Valve' If Next CEO Falters