Cash-flow challenges key, not '80s-era crisis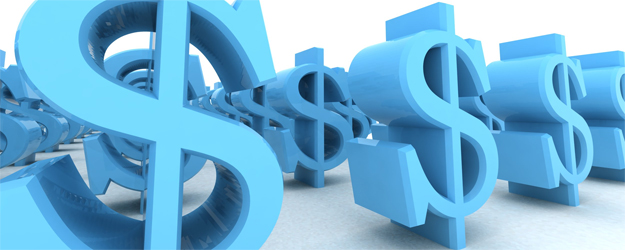 The softer commodity prices of recent months do not represent a repeat of the 1980s, nor do they suggest a farm crash is imminent. Yet many operators face a serious cash-flow squeeze. For young producers with low liquidity and financial reserves, the 2015 crop year will prove challenging at best.

"A farm crisis is possible but would likely take three years at present crop prices," says Allen Featherstone, an ag economist at Kansas State University. 

Three factors—farmland values, marketing flexibility and interest rates—are largely positive, illustrating why this is not your father's farm crisis. But debt, safety nets and larger farm payouts are likely the top concerns producers will face in the months ahead.

Here's what you need to know about each variable.
Farmland Values Calm. Land values are not crashing like they did in the 1980s. Experts suggest a correction in values is ahead, but none forecast values to fall by 40% or more as in the past.

Be careful to look beyond headlines. For example, the title of a fall report from Creighton University on farmland values stated, "Farmland Price Index Sinks to Record Low." The report quotes a Kansas bank CEO who described the sale of a quarter-section of irrigated land, the price of which had been marked down between 25% and 30%. 

Double-digit price declines sound concerning but must be viewed in context. Although the index is concerning, and three-fourths of rural bank CEOs expect farmland values to decline, the average expected decline is a modest 5%. That would hardly offset the 8.1% year-over-year increase in farmland values USDA announced late this summer. Seven heartland states had double-digit growth, including Kansas, where irrigated land values rose 18.8%. There, irrigated land values are up 46% from just two years ago. Even an unlikely drop of 25% in that state would leave irrigated values above those of 2012. 

Commodity prices suggest land values are due for a correction of about 15%, less than the 2013/14 double-digit growth in Iowa, Nebraska, South Dakota, Minnesota and Texas, adds Chad Hart, ag economist at Iowa State University. A crash in values could herald a farm crisis, and while it's not impossible, no one is forecasting such an event.
Marketing Flexibility Rises. The 2015 crop year will leave many scrambling for ways to move financials into the black, but the 2014/15 marketing year is a mixed bag.

"Many of our farm operators had sold a good portion of their current corn at $5 per bushel, or a little over, going into this farm year," explains Jeff Bonnett, president of Havana National Bank, Havana, Ill., in the Creighton survey. 

Yet for those who did little to no forward pricing, tallying up 2014 income will be a somber exercise. Crop insurance revenue protection at $4.62 per bushel for corn will provide some support. For those who produce their Actual Production History (APH) yield, prices will be close to breakeven. In states such as Illinois, record yields will reduce or eliminate crop insurance payments, but added bushels will effectively reduce breakeven costs. 

Additionally, more marketing tools are available today than in the 1980s, when little price movement occurred. Volatility is more frequent today, creating profit opportunities.
Interest Rates Are Low. Rates on operating loans reached 18% in 1983, spinning many farmers into a financial free-fall. Interest became a huge input, and double-digit rates strengthened the U.S. dollar, hurting exports. As late as 2000, rates stood at double-digits.

That's not the case today. In the second quarter of 2014, the Federal Reserve Bank of Chicago reports commercial banks in the district had operating loan rates of 4.9%, the lowest in history dating to 1975. Real estate loans had rates of 4.67%, the lowest in the history of the series dating to 1969. 

As a result, producers have greater financial flexibility and can refinance loans when needed. Many producers have locked in fixed rates.
Debt Levels Pose Risks. Some factors have improved in farm country, but others concern experts. Farm debt levels, widely reported to be low, are one example. 

On the one hand, farm finances are in excellent shape due in part to crop insurance, notes Featherstone, the Kansas State ag economist. On the other, "it is not much different than it was in 1979, two years before the previous bust," he says. In 2013, the average debt-to-asset ratio for Kansas Farm Management Association farms stood at 19.6%. That isn't much lower than the 24.6% seen in 1979. Also troubling is that in 2013, close to 17% of those Kansas farms had debt-to-asset ratios greater than 40%. About 3% had debt-to-asset ratios greater than 70%, compared to roughly 1% at that level in 1979.

In addition, today's lending practices are more conservative.

"Instead of the discussion being, 'We have a problem, and what are we going to do about it?,' it's more of, 'You have a problem, and what are you going to do about it?,'" says Frayne Olson, ag economist at North Dakota State University.

Lack of cash flow on farms will also force lenders to switch to asset-based lending, raising questions about how to value assets, Olson adds. That's particularly true for lines of equipment.
Safety Nets Have Narrowed. In recent years, crop insurance guarantees stood above breakeven. Corn had a guarantee of $4.62 this year, but 2015 does not look as promising. That insurance is based on February futures prices. 

Crop insurance doesn't work as well as a safety net during bearish price periods because it provides the greatest payouts when market prices are high and the least protection when they are low, explains Bruce Babcock, ag economist at Iowa State University. A producer with 80% coverage and an APH of 150 bushels per acre would see minimum per-acre crop insurance revenue guarantees of $492 in 2015, down 27% from two years ago, Featherstone says. That assumes December 2015 futures during February of $4.10. 

Although the 2014 farm bill creates safety nets of Agricultural Risk Coverage (ARC) and Price Loss Coverage (PLC), they only kick in for most producers when market prices are below breakeven.
Growth Strains Payrolls. Since 2008, more young producers have returned to the farm than at any period in decades, spurred by positive forecasts for agriculture. Although it's positive for the industry, it's also a strain on family cash flow, says Andy Swenson, ag economist at North Dakota State University. Soon producers will have two difficult discussions, he notes, one with lenders and the other with family about changes needed for sufficient income.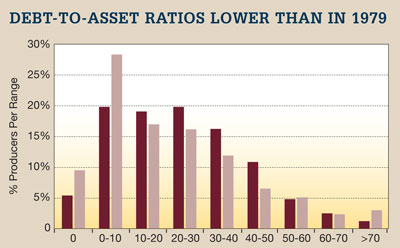 Although producers had lower debt-to-asset ratios in 2013 than in 1979, lending practices have become more conservative. Dark red bars reflect the percentage of farmers in each debt-to-asset ratio range in 1979; light bars, 2013. 
---
Will Corn Hit High Levels seen in 1980s?
High grain stocks occurred in the 1980s in addition to financial troubles. Despite this year's record crops, though, don't assume a rerun is inevitable, says David Widmar, an economist at Purdue University. "There are a lot of bushels out there, but we aren't quite swimming in corn when you consider the current level of corn consumption," Widmar explains. It's still hard to be rosy on prices without big changes.