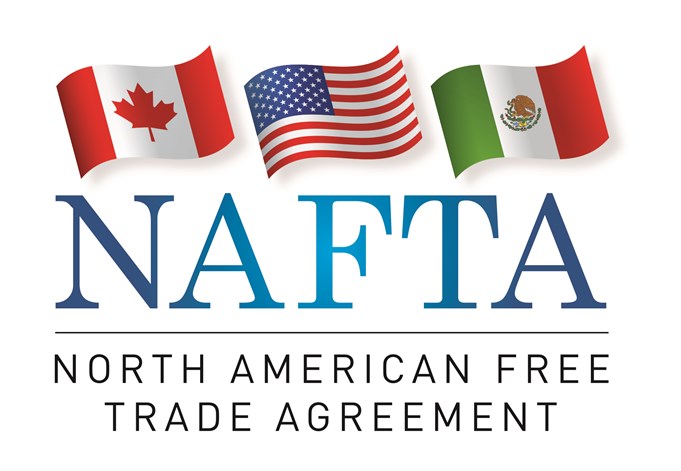 It's an historical day for the United States as the first round of negotiations to rewrite the North American Free Trade Agreement (NAFTA), got underway Wednesday morning in Washington D.C. 

In effect since January 1994, NAFTA created a Free Trade Zone between Canada, Mexico and the United States. President Donald Trump has called the trade pact "the worst trade ever made by any country." 

Trump says the U.S. has lost "millions" of manufacturing jobs to Mexico due to cheaper labor costs. However, a majority of agriculture trade groups have urged the White House and U.S. Trade Representative's office to "do no harm" to NAFTA which has boosted exports of U.S. grain and other agricultural products.
During a news conference Wednesday, prior to the onset of talks, three trade representatives of each country met with reporters.
After opening comments, Canada Minister of Foreign Affairs Chrystia Freeland spoke how Canada's approach to NAFTA is "free and fair." Freeland highlighted how Canada, the United States and Mexico together account for a quarter of the world's (GEP) with 7 percent of the world's population. 
"According to Canadian economists, Canada's economy is 2.5 percent larger every year than it would otherwise be thanks to NAFTA," said Freeland. "In the case of the U.S., the Peterson Institute of International Economics estimates that NAFTA has made the U.S. an extra $127 billion dollars each year since the agreement was signed." 
Mexico Secretary of Economy Ildefonso Guajardo Villarreal said for the next deal to be successful, the trading partners need to aim for a "win, win, win for all countries." 
"The issue is not tearing apart what has worked but rather how we can make the agreement better," said Villarreal. 
U.S. Trade Representative Robert Lighthizer then highlighted how the 23-year-old deal is in need of an update because all three economies are very different than they were in the 1990s when the deal went into place. Lighthizer says he "completely shares" the views of President Donald Trump when it comes to renegotiating NAFTA. 
"The views of [President Donald Trump on NAFTA] which I completely share are well-known," he said. "I want to be clear. He is not interested in a mere tweaking of a few provisions of a couple of provisions and a couple of updated chapters. We feel that NAFTA has fundamentally failed many, many Americans and needs major improvement." 
Lighthizer says the U.S. government has certified at least 700,000 Americans have lost their jobs due to NAFTA. He also says the United States needs to take trade deficits into consideration. 
"However since then, we have had persistent trade deficits – in the last year totaling nearly $57 billion," said Lighthizer. "In the auto sector alone, the U.S. has a $68 billion deficit with Mexico. Thousands of American factory workers have lost their jobs because of these provisions. In recent years, we have seen some improvement in our trade balance with Canada. But over the last ten years, our deficit in goods has exceeded $365 billion."
Freeland said Canada doesn't view trade surplus or deficits as a primary measure whether a trading relationship works. 
"Our trade with the U.S. is balanced and mutually beneficial," said Freeland. "In 2016, Canada and the United States traded $635.1 billion U.S dollars worth of goods and services. That exchange was almost reciprocal." 
Despite being vocal of a major improvement to the deal, Lighthizer mentioned how many Americans have benefited from NAFTA since Canada and Mexico are some the United States' largest export markets.
"For many of our farmers and ranchers, Canada and Mexico are their largest export markets," said Lighthizer. "Americans spend billions of dollars of corn and soybeans, and poultry across our borders to dinner tables throughout North America. Americans sent billions of dollars of corn and soybeans, and poultry across our borders to dinner tables throughout North America."
Lighthizer listed examples of the deal which need to be changed. Some of those include: assuring huge trade deficits do not continue, wanting rules of origin on auto and auto parts to require higher NAFTA content, strong labor provisions in the agreement and assuring equal access and reciprocity in government procurement and agriculture. 
Lighthizer says there are agricultural goals he would like to see changed or updated in the agreement. Those include protecting intellectual property, promoting science-based agricultural trade and improving energy provisions, creating strong labor provisions in the agreement and assuring equal access and reciprocity in government and procurement and agriculture. 
Lilghthizer recongized the task is a 'very difficult one' but looks forward to working with Canada and Mexico.
NAFTA 2.0 Opening Statements