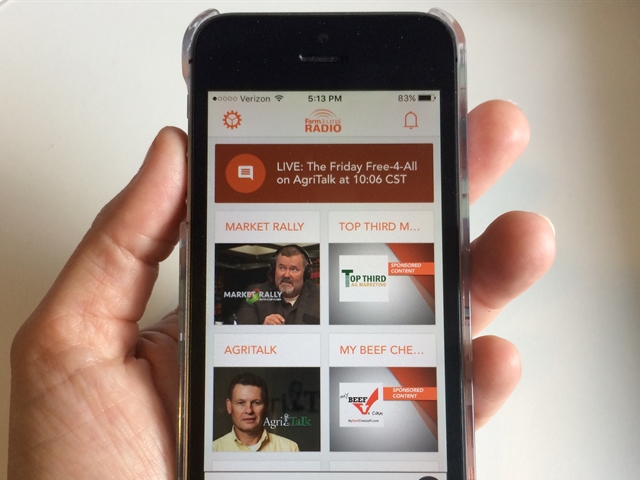 Do you want to stay up-to-date on the markets? Learn how to run your farm operation more efficiently? Serve your grower customers more effectively? If your answer is "yes" to any of these, just grab your smartphone and prepare to listen on the go, because Farm Journal Media has a podcast for you.
If you're unfamiliar with podcasts, the best way to understand them is to think of them as a radio show or television show you can listen to at your convenience. Some are recorded versions of Farm Journal shows, such as Market Rally with Chip Flory or AgriTalk with Mike Adams, which are broadcast on radio and television stations. Others are special audio shows only available via podcast.
Either way, you can access these podcasts with the MyFarmRadio or MyFarmTV apps, which are free and available for Apple and Android devices.
You can also find some of these on iTunes, which allows you to subscribe for free and never miss an episode. (Go to the "Podcasts" app on your iPhone or iPad and type the show name into the search box to find them.)
Curious? Here are a handful of Farm Journal podcasts that you can rely on to keep you informed about the trends and news affecting your farm business.
AgDay: Audio version of Farm Journal's weekday television show covering national and regional news affecting producers.
AgriTalk: Farm Journal's daily radio news show with host Mike Adams, whose guests discuss farm news, commodity markets, machinery trends, farm policy, and producer issues. (Also available on iTunes.)
AgPro: This new podcast, hosted by Farm Journal Radio's Pam Fretwell, features crop consultants, ag retailers, farmland managers and others who work with growers.
American Countryside: Andrew McCrea takes listeners on a road trip filled with Americana.
Consumer Ag Connection: Hosted by Pam Fretwell, this weekly show seeks to bridge the gap between consumers and producers by educating listeners about agriculture. (Also available on iTunes.)
Market Rally with Chip Flory: Hosted by Pro Farmer Editorial Director Chip Flory, this daily radio show tells you what happened in the markets that day and why. 
Straight From the Heartland: You'll get stories about young and veteran farmers, marketing advice, agronomy tips, precision ag information and more in this twice-weekly radio show for those who live in farm country from farm broadcaster Pam Fretwell. (Also available on iTunes.)
Top Producer: This new podcast, hosted by Pam Fretwell, digs into the business of agriculture with in-depth interviews of people involved in farming and agribusiness.
U.S. Farm Report: Audio version of the popular weekly news and markets television program. (Video version available on iTunes.)