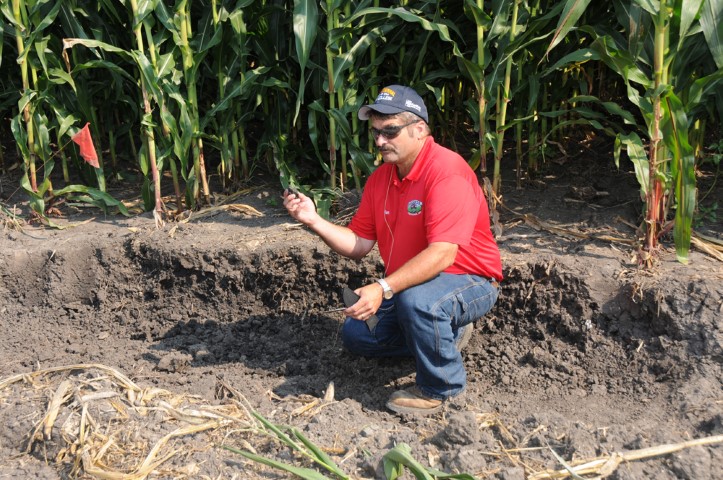 Soils have a lot to tell you. How well you listen could mean the difference between producing a low-yielding corn crop this season or growing one for the record books.
 
Stop, look and listen aren't just good safety precautions to use when you cross the road. They are also valuable tools that can help you get a better handle on what's going on in the soils that make up your farm's cornfields, says Ken Ferrie, Farm Journal Field Agronomist.

Soils form the foundation for your crop, much like a foundation impacts the quality of a house. No matter how much management, labor and fertilizer you apply, and regardless of the quality of seed you plant, it's the soil that ultimately determines corn quality and how many bushels you can produce.

That was a key message Ferrie conveyed earlier today to nearly 200 farmers attending the 2014 Corn College near Heyworth, Ill. This year marks the seventh season for the event, which is hosted by Farm Journal Media.

Ferrie says soil health involves three important aspects: chemical, biological and physical.
"Understanding physical aspects of soil lets you set realistic yield goals, based on water-holding capacity," Ferrie says. "It also tells you how to fertilize and manage the soil to achieve those goals and how to improve the health of poorly producing soils."

Physical aspects of soil health include texture, structure and aggregate stability. Texture is the percentage of various particle sizes—sand, silt and clay, from largest to smallest—in the soil profile. Most soil types contain more than one type of particle, such as clay loam, silt loam or silty clay loam.

When you start thinking in terms of soil health, most farmers start the evaluation process by taking a soil test, which can help predict the availability of nutrients.

"I tell farmers to use their soil test as a guideline or suggestion; it measures the chemical aspect of soil health," Ferrie explains. "Other tools, like NDVI, will help tighten or focus the picture the soil test gives you."

You can use a variety of tests to start assessing your soil health, including water infiltration, soil respiration, aggregate stability, pH, surface hardness, compaction and density. Other aspects require the help of a soil-testing laboratory, which offers some tests you might not have encountered before, such as aggregate stability, texture analysis, active organic matter and mineralizable nitrogen.

Different kinds of soil tests provide different types of information. Ferrie tells farmers to be sure to know what kind of test is used.

"Different tests have different extractions," he explains. "Based on the extraction method, you get different numbers and you need to know which test was used to understand the relevance of the numbers for your particular soils."

Ferrie adds: "Farmers have always looked at the individual components of soil health, such as fertility, tillage and water management. But to really improve soil, we have to look at all the components together, in a Systems Approach to soil management."
Thank you to the 2014 Corn College sponsors:
AgriGold, BASF, Chevrolet, Cover Crop Solutions, FMC, Great Plains Mfg., Precision Planting, SFP, Top Third, Yetter Mfg