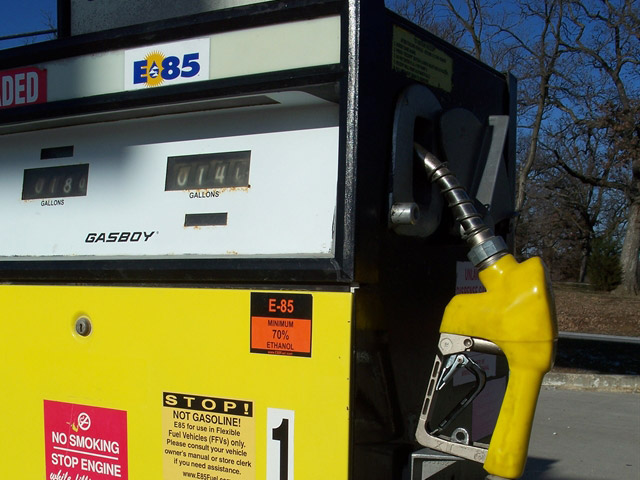 Sharply lower gasoline prices through November and higher ethanol quotes have raised concerns about the future of ethanol demand and the potential for lower corn prices. But Darrel Good and Scott Irwin, who are ag economists at the University of Illinois, say "this risk is overstated."
In their study published Dec. 4, ethanol's blend wall is likely close to 13.5 billion gallons regardless of price relationships. Because of that, Good and Irwin do not see corn demand for ethanol falling below 4.9 billion bushels. That's the good news.
The not-so-good news is that ethanol production is pretty much stuck at that level, because the blend wall effectively acts as a cap on production. "There is very limited scope for expanding ethanol use through higher blends, at least through 2015," the economists say.
A lock on 13.5 billion gallons in production is based on their view that the Environmental Protection Agency (EPA) in its final rule will keep the ethanol mandate near or at statutory levels of 14.4 billion gallons for 2014 and 15 billion from 2015 through 2022. The ethanol industry was alarmed last year when EPA's preliminary rule required blending of only 13 billion gallons. Good and Irwin base their view on public comments from ethanol and petroleum industry participants as well as the recent uptick in Renewable Identification Number (RIN) prices.
The mandate can be met with a combination of physical blending of ethanol and the retirement of the existing stock of RINs. They do not look for the holders of RINs to retire much because of risk that mandates could exceed the 10% blend wall. Because of that, the economists predict the Renewable Fuels Standard, for the time being, will be met through a combination of physical blending of ethanol and biomass-based biodiesel.
"Despite the favorable economics of biodiesel blending at the present time, the investment that the petroleum industry has made in formulating gasoline to be blended with ethanol at 10% means it is most likely that ethanol would be used to meet the renewable fuels mandate," Good and Irwin say.
U.S. Exports Vulnerable
U.S. ethanol exports could take a hit, however. Exports are on track to reach 750 million to 800 million gallons this year, and earlier this year, the industry was optimistic for further growth. This is up sharply from 618 million gallons in 2013, 732 million in 2012, although far shy of the record 1.2 billion gallons of exports in 2011, when Brazilian ethanol was limited.
However, an extended period of high ethanol-to-gasoline price ratios could result in a decline in U.S. exports rather than future growth, Good and Irwin say. Nearly half of U.S. ethanol exports go to Canada, which also has an ethanol mandate, and exports there are likely to be unaffected. Exports to other countries may be cut, though, placing a few hundred million gallons of U.S. ethanol exports at risk. "This likely would only represent a drop in corn use for ethanol of about 150 million bushels," the report says.
Raising the concern that ethanol production could be vulnerable are recent shifts in certain price relationships between different energy sources.
For example, the ratio of ethanol to what's termed the Conventional Blendstock for Oxygenate Blending (CBOB) moved above 1.1 on Nov. 13 and continued to move higher through Nov. 27. The breakeven price of blending ethanol in the motor fuel supply is 1.0 or 1.1 times the price of CBOB.
That price ratio has exceeded 1.1 only rarely--and the recent move above 1.1 was the highest level since early 2009. The most protracted period was in late 2008 and 2009 as crude oil prices declined sharply under recessionary pressures.
However, market history suggests that the ethanol/CBOB price ratio is not likely to remain above 1.0 for long. Market adjustments to maintain the competitive position of ethanol are likely to be rapid. "This adjustment process has already started with fairly sharp declines in ethanol prices in recent days," Good and Irwin say.