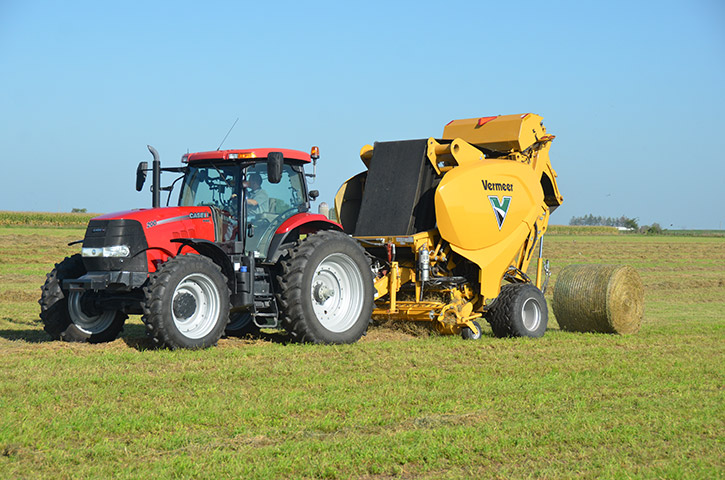 The landscape is changing in farm equipment sales. The days of buying a new combine or large tractor every year may be over, but, small equipment sales are filling in the gap, keeping overall tractor purchases strong. That's driven by the strength in livestock sector.
"Dairy and livestock was extremely strong last year," says Todd DeBock, with New Holland. "We're talking 125 PTO horsepower tractors and down, as well as all the haying equipment that goes with it, from the round baler to a disc mower conditioner."
"With beef cattle prices being fairly favorable and pig prices favorable, that really plays to that say 60 HP up to about 140 HP, so that mid-horsepower tractor. " says Tom Dean, Case IH. "Then, good interest in hay tool, as well."
The Association of Equipment Manufacturers just released a report showing sales of larger 4-wheel drive tractors fell 65 percent from December. Combine sales also took a hit, down 47 percent. However, all tractor sales still posted gains, rising 6 percent from last year, with sales of 2-wheel drive tractors under 40 HP up nearly 20 percent.  
While some companies that depend on the larger equipment sales are looking at a more depressed outcome in 2015, it's the smaller equipment manufacturers that are very optimistic about possible growth this year.
"This year we expect 2015, in the small under 100 HP , we expect that industry to be maybe up couple points," says Stephen Barcuch of Kubota.
It's not just traditional tractors seeing a boost in sales, it's also implements.
"When the dairy sector is up, not only is the round baler, disc mower and we'll call it midrange, but so were skid steers," says DeBock.  "We see that continuing this year, fabulous year last year for skid steer products, and we have new introductions this year."
"This is not only in the livestock arena, but rural lifestyle people, a lot of the large property owners want a small tractor, but not a lawn and garden tractor or anything like that," comments Barry Nelson of John Deere.
Even with congress working to make section 179 permanent at $500,000, it may not be enough to save larger equipment sales.
"The problem with that is, it's on the back end and not on the front end," says Greg Trame, Grain Systems Incorporated (GSI). "So, if the cash flow isn't there up front to make the investment, it really doesn't help."