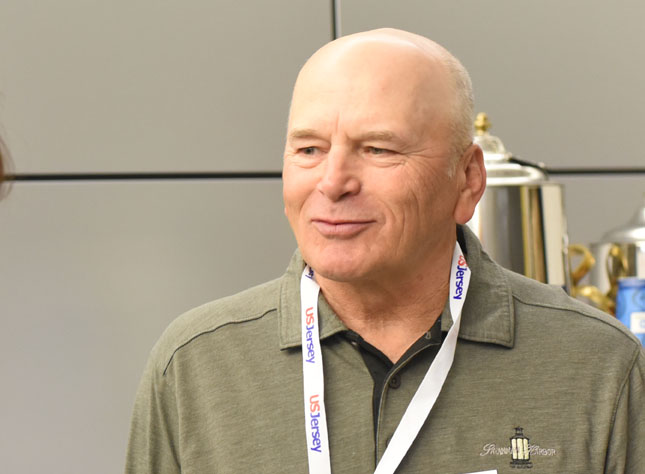 Don't let James Huffard III's unpretentious manner fool you. This down-to-earth Virginia dairy producer is doing big things on his farm and in national dairy circles.
At the family's 370-cow dairy in Crockett, Va., Huffard and his brother, John, have ventured into a milk bottling plant with a neighbor. Their Duchess Dairy Products enterprise produces nearly 4,000 gallons a week of fluid milk, all from their Jersey herd. They market and deliver the bottled milk to more than 80 stores in the Blue Ridge Mountain area. And next month, they're launching a drinkable yogurt addition.
On the national scene, Huffard serves as vice president of the National All-Jersey Board. He's past president of the American Jersey Cattle Association. His latest honor came Wednesday night when he received the World Dairy Expo Dairyman of the Year Award.
James Huffard III at World Dairy Expo on Wednesday.
(Photo: Rick Mooney)
Reality will return when he gets home later this week. There, he'll get back to the work that most dairy producers face every day.
"Environmental issues are always near the top of the list," says Huffard, whose dairy sits near the New River. The dairy has been in the family since 1929. Under its nutrient management plan, lagoons are inspected yearly. Managing manure from the freestall operation and monitoring how much can be applied to the farm's 600 acres is mostly brother John's area of expertise.
Production costs are another issue for the Huffards. They're high -- he estimates his dairy's production cost at about $20 per cwt.
"We can't grow soybeans in our area," he says. "Most of our grains are brought in. We try to keep our feed costs in line, but it costs us more than Wisconsin dairies to buy grain."
The dairy's milk hauling rates add up to $1.20 per cwt., vs. the 20-40 cents for other areas of the country, especially those that sit close to processing plants.
With the help of six employees and a Herringbone parlor,the Huffards' dairy produces 6.8 million pounds of milk a year. The all-Jersey herd produces about 58 lb. per cow, per day. Huffard believes their milk is top-notch.
"Jersey milk is richer in calcium and protein," says Huffard. "It tastes better. People tell us our chocolate milk tastes like melted ice cream."
The milk bottling plant consumes about one-sixth of the dairy's production. The rest of the dairy's output goes to Dairy Farmers of America (DFA).
"Marketing is key to meeting the challenge of declining milk sales," says Huffard, who earned a bachelor's degree in dairy science from Virginia Tech. "We need something new, innovative, different. And we have to produce the products that the world wants, like DFA and Hilmar Cheese do."
Huffard has just returned from a World Jersey Cattle Bureau tour of South Africa and Denmark. His take-home observations?
"Dairymen in South Africa are using a lot of U.S. genetics so their cows are much like ours," he said. "They're paid similar prices. Their concerns about the dairy industry are the same as ours. They're nice people."
In thinking about the role of the U.S., Huffards adds, "A lot of the dairy world looks to the U.S. to be a leader in things like genetics and innovation. We have to continue to push forward to be that leader. I'm excited about the potential of what our industry can do."