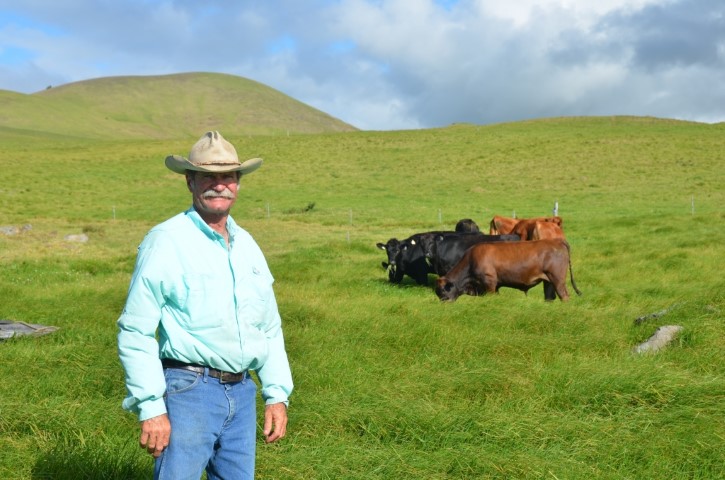 Hawaii is seeing a changing of the guard when it comes to local beef consumption.
"Now in probably the last five years with the interest in local food with people willing to pay the price and the interest in forage based finishing that is where the industry is shifting again," says veterinarian Tim Richards. Richards aids ranches on the Big Island of Hawaii setup health programs and also helps manage his family operation Kahua Ranch.
This past year Parker Ranch, the largest ranch in Hawaii, and Ulupono Initiative announced the launch of the Paniolo Cattle Company, a joint venture aimed at statewide local beef production. Parker Ranch will raise close to 1,400 calves for the locally based program that will increase the amount of local beef sold by 35%.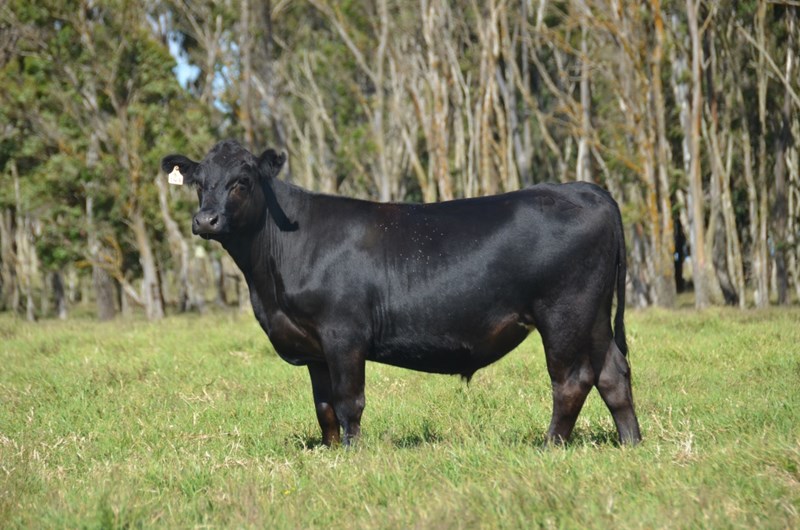 This Parker Ranch steer will be part of a 35% increase in locally raised beef that is sold across Hawaii. 

"Here's the irony, we're in the top 10 in terms of size (nationally). We produce 400 lbs. here, ship it to the mainland and pay somebody else to produce the other 800 lbs. They got paid first every time," says Keoki Wood, livestock operation manger at Parker Ranch. "The idea was to maybe encourage more of that production here and pay our guys first. But it is a tough, tough road to go down right now, especially with record high calf prices."
Ponoholo Ranch also takes part in raising calves for local markets. Approximately 300 of the 3,000 calves born at Ponoholo Ranch are finished on grass before being sold as beef to Whole Foods Markets on the islands of Maui and Oahu.
"If it is possible and it is competitive we'd like the market more here just from a risk management standpoint," says Pono von Holt owner and rancher at Ponoholo Ranch.
For the grass-fed and local markets to progress any further Richards believes it will require an investment in a modernized packing plant.
"Somebody has to build it and it's not necessarily going to be a Field of Dreams 'build it and they will come.' The problem is who is going to pay the checks while it takes five to 10 years for the thing to ramp up," Richards says. "It's a tough one."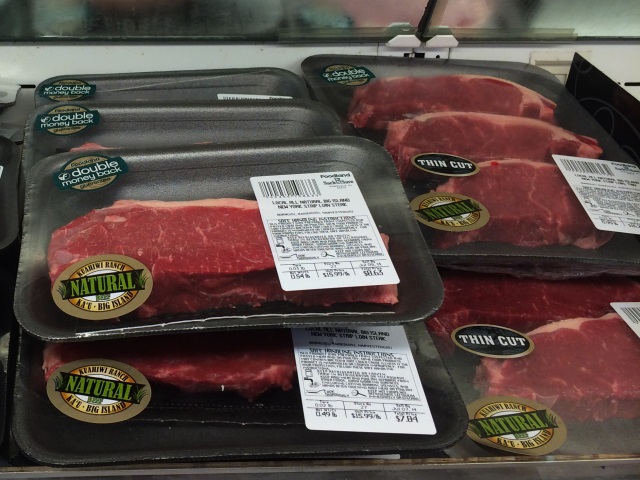 These locally raised strip steaks were bringing just under $16/lb. in early July on the island of Oahu.

Wood agrees that it will require a new, small scale packer to help meet the demand. Currently there are two small plants that help service the cull cow market and local calf slaughter, but both are outdated and too small to take care of the possible local production increase.
"It's a real interesting time," Wood says. "I don't see us leaving all of the cattle here, but if we have to make some infrastructure investment we'll certainly support that investment."

The majority of calves are still sent to the continental U.S. to be finished on grain.
Ranching in Hawaii is not that drastically different from production on the mainland U.S. The majority of cattle still have to be moved for marketing and consumer trends are helping decide how those cattle are raised.
"Hawaii's got some great comparative advantages and it's got some disadvantages, distance to market and feed is one of them. The advantage is we have year-round grazing so we don't have to make hay," von Holt says. "It all gets back to the cost of operation. A good ranch that controls their costs is going to be profitable in any environment."