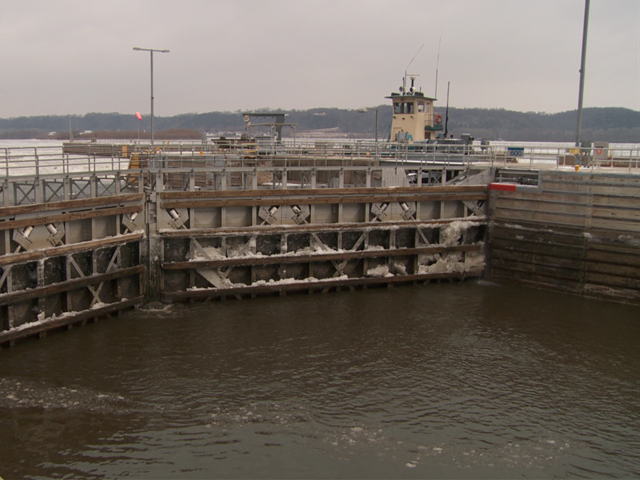 Millions of bushels of temporary and emergency grain storage have been piled in tarps and the ground this year. Those are bushels that will eventually need to be moved by truck, rail or barge. With more than 60 percent of grain is transported on our nation's waterways and some Lockmasters worry about how smooth moving 2014's massive crop will be.
The waters are near-frozen in Dubuque, Iowa as ice chunks float along the Mighty Mississippi. Winter has arrived.
Lockmaster for Lock and Dam #11 Jim Piper said, "The boat can maneuver through it but it really creates a lot of extra work, situations and damage to equipment things to that nature."
For Lock and Dam #11, the cold is slowing things down.
"Lockage in regular water would take an hour and a half to two hours. We're averaging six to eight hours now because of the ice because it's whole different environment and situation," said Piper.
Army Corps of Engineers Lockmaster, Jim Piper says the cold and added time really hurts when it comes to moving grain. The last boat was docked in Dubuque about three weeks early at the end of November. It's the higher cost of moving this year's bumper crop doesn't help.
"Right now because of the bumper crop and everything, the towing industry rates are up 20 to 60 percent for the towing industry," said Piper.
Piper fears this could all set up a chain reaction.
According to The National Waterways Foundation, one barge holds over 52,000 bushels of grain. That's equivalent to 15 jumbo rail cars and 58 large semis. Piper says they can have 30 inches of ice in Dubuque, so barges may not be available if needed.
"We have an issue with that now because of all the fracking in South Dakota and North Dakota. They're utilizing the rail system for the transportation of oil. So we're really in a mess," said Piper.
This was especially true last year. This year however, according to a December Soy Transportation Coalition Report that surveys grain handling facilities, 70 percent of facilities surveyed cycle times for railroads are faster than a year ago, although 60 percent of grain facilities still cite rail service delays because of the 2014 harvest.
"I know this spring the barges will be bumper to bumper to get those crops that have been stored and on the ground all winter. If the rail isn't available, I don't know what happens," said Piper.
A situation where we may not know what will happen, until that ice on the Mississippi Melts.
Piper says fertilizer, sulfur, limestone, gravel, potash and pig iron- all travel by river. But the most interesting thing he's seen is a whole tow of military vessels.