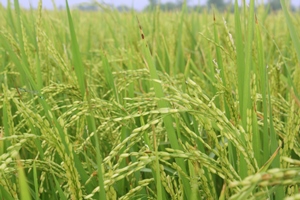 The 2014 Louisiana rice crop is better than expected, "but not as good as last year," said Johnny Saichuk, LSU AgCenter rice specialist.
LSU AgCenter County Agent Vince Deshotel said that assessment was true for St. Landry Parish as well. "It was not a tremendous crop, but it will be better than our typical average," he said.
Deshotel said this year's cool spring and a wet, muddy harvest were problems for local rice producers.
"Our harvest was kind of strung out because of all the precipitation, but it came off in a timely fashion," he said.
Although the weather was a challenge, he said a bigger problem is the price farmers are getting for their crops this year.
"Prices are off considerably. Our farmers could certainly use a better price with input costs constantly increasing," he said of the price of everything from fertilizer and insecticides to fuel.
Rice remains an important crop in St. Landry Parish, second only to soybeans. "We had 26,000 acres devoted to rice this year. Eunice is a major rice-producing area, but we have rice fields throughout the parish," Deshotel said.
Keith Fontenot, LSU AgCenter county agent in Evangeline Parish, said the crop in his area was also good.
"We have had some producers who exceeded last year's crop," Fontenot said. Still, he said most fields are yielding slightly less than last year's re-crop by as much as four to five barrels — 14-18 bushels.
Fontenot said rutted fields make it difficult to judge how well a second crop is faring. He estimated that a third of the acreage in Evangeline Parish will have a second crop this year.
Steve Linscombe, director of the LSU AgCenter Rice Research Station in Crowley, said a large amount of south Louisiana acreage will be producing a second crop this year.
Linscombe said the cool spring and wet, muddy harvest were problems, but the summer nights were not excessively hot and that probably resulted in good yields and outstanding grain quality.
He said the usual decline in yields toward the late part of the harvest in south Louisiana was not as striking as usual. "The rice we were cutting in late August and early September was still yielding well. In the first week of September, we still had farmers cutting more than 60 barrels with good quality," he said.
Disease was also not bad this year even with all the heavy rainfall. The research station recorded 33.6 inches of rain between May and August, compared to 13.2 inches for the same time period last year.
Andrew Granger, LSU AgCenter county agent in Vermilion Parish, said the crop there resulted in above-average yields, but not quite as good as last year. But, he said, the wet harvest conditions have reduced the second crop for many farmers.
Granger estimated a ratoon crop will be grown on 25 percent of the parish's 51,000 acres, compared to 40-50 percent in most years.
Linscombe said this year also saw an increase in medium-grain rice as farmers sought to make up for the 150,000-acre reduction in California where drought resulted in water shortages.
Barrett Courville, LSU AgCenter county agent in Acadia and Jefferson Davis parishes, said the average in both parishes will be just under 50 barrels — 180 bushels — with Acadia Parish having slightly better results.
"With the weather we had, it really turned out to be a good year," Courville said.