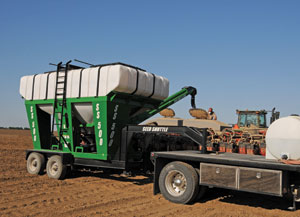 Convenience and speedy refills spur red-hot seed tender market
Farmers are falling head over heels for seed tenders. "Five years ago, there were probably four or five companies making seed tenders, but just last year I counted 16," says Randy Riecks, U.S. sales manager for agriculture products at Meridian Manufacturing Group.
The surge in demand can be linked to farmers using more bulk-fill planters and buying bulk-packaged seed.
In the past five years, seed companies have also been offering aggressive incentive programs that pair seed orders with a seed tender.
"Center-fill planters are here to stay and with bulk seed and center-fill planters, farmers are seeking out a way to refill in the quickest way possible," says Shawn Gerdeman, product manager for Unverferth Manufacturing. "On top of speed, seed tenders make the job a one-man task."
To build upon the convenience of the seed tender, hydraulic systems have been added to expand the conveyor swing, reach and lift. Remote control options have also been added so farmers can control the conveyor and open and shut gates with a touch of their hand. One of the most popular options has been scale packages.
"We've sold more scale packages in the last three years than in the past 10 years combined. Scales are getting more important because of the way seed will be marketed," Riecks says.
The next step in seed tender technology is automated shutoff. This means that when a system reaches a given seed unit count, it will automatically stop the filling process.
Quality control. Mechanically, tenders have been refined to maintain seed quality. In the past 10 years, manufacturers have shifted to using belt systems rather than augers.
"An auger obviously has its limits based on how it can convey seed without damage," Gerdeman says. "We only offer a tender with a belt because it's the moving platform with no moving parts [and] no change of direction."
To do their part to maintain seed, farmers need to follow proper operational procedures.
"Belt speed is the key. For every tender, there's a sweet spot in rpm that maximizes capacity, delivers high speed and safely moves seed," Gerdeman explains. "When you run a belt too fast, you will see more seed damage and the product will be pulled underneath the belt, which is bad for seed integrity."
Pampering the seed is even more top of mind as overall seed costs increase.
"When the average cost of a unit of soybeans is $50 and corn is $200, seed damage can be costly," Gerdeman says. "Farmers should keep in mind that some seeds are more fragile than others. Soybeans have a different aspect than corn, wheat or edible beans."
Attention to tender maintenance in-season and during storage is also key. "Belts are made of rubber and over time, rubber does stretch and wear," Riecks says. "Farmers should make sure the belts are straight and tight.
In the off-season, we recommend thor-oughly cleaning out the machine and thinking about how to repel rodents."
Safety first. Tenders can hold up to 300 bu. of seed. Drivers need to realize the sheer weight they're hauling (18,000 lb., in the case of soybeans) and keep safety top of mind.
"The larger-size tenders are more popular," Gerdeman says. "Farmers should match their truck to the appropriate-sized tender. There's been a big trend for tenders to be mounted on gooseneck trailers to better center the weight over the rear axle."
"Also important is the procedure for pulling in and out of the field, and care should be taken every time," Riecks says.