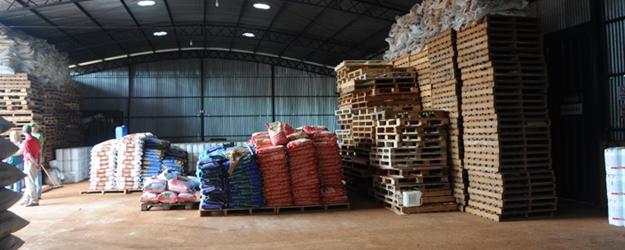 Declining prices of grains and oilseeds mean farmers in parts of South America may face losses next season, potentially discouraging them from planting fields or using the optimum amount of fertilizer, Oil World said.
Profit margins may be squeezed for farmers far from ports who have to pay higher transportation costs, including those in Brazil's Mato Grosso, the biggest soybean producing state, the Hamburg-based researcher said in an e-mailed report. Farmers in Argentina's Cordoba and Buenos Aires provinces who rent their land also face losses, especially for corn and wheat crops that have high production costs, according to the report.
"Farmers in several parts of Brazil and Argentina are facing negative margins for oilseeds and grains, when looking at their production costs and the current new-crop prices quoted in the futures markets," Oil World said. "This indicates that farmers in Brazil and Argentina will cut plantings of corn next season. Also wheat sowings are likely to be smaller than initially expected."
Corn, soybeans and wheat futures on the Chicago Board of Trade all fell to the lowest levels since 2010 in the past week after a USDA report affirmed projections for ample world supplies.
Corn planting begins in Argentina in September and in Brazil in November. Soybean sowing begins in October and November. Brazil and Argentina will be the world's second- and third-biggest exporters of corn and soybeans respectively in 2014-15, after the U.S., according to USDA. Ukraine ties with Argentina for the third-place ranking in corn.
Sunflowers
South American farmers may switch some fields to sunflowers because of the crop's low cost of production, Oil World said. Still, profit margins for oilseeds including sunflower and soybeans "have come under considerable pressure," it said. Some leased farmland may not be planted in the next season, or "farmers may try to cut costs by reducing fertilizer application and crop protection treatment," it said.
Recent declines in prices also mean that sales by farmers in Argentina have "come almost to a standstill," Oil World said. Farmers are still collecting crops from the 2013-14 season. About 300,000 hectares of soybeans were left to be harvested as of July 10, and some of that area may be abandoned after excess rain. Wet weather means some harvested corn crops have "excessively high" moisture content, and wheat planting has slowed.