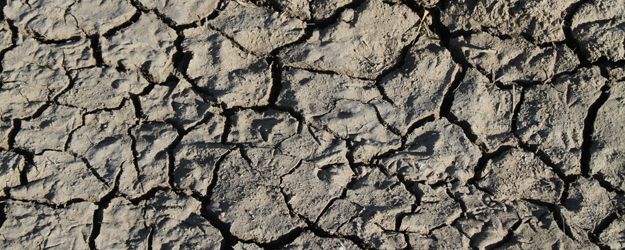 The NWS 6- to 10-day outlook for June 12-16 calls for near- to above-normal temperatures and rainfall across much of the U.S. Cooler-than-normal conditions will be confined to the
southern Atlantic region and the Pacific Northwest, while drier-than-normal weather will be limited to the Rio Grande Valley and parts of the West.
This week's U.S. Drought Monitor shows abnormally dry and moderate drought conditions have crept further north, taking over the majority of Missouri, Kansas, Iowa and Illinois.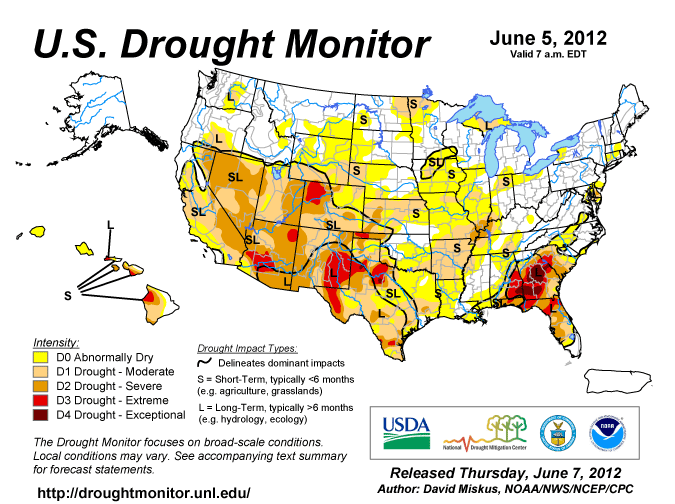 David Miskus,

of the Climate Prediction Center,
reports that although cooler air finally filtered into the northern Plains and Midwest, the combination of a very warm and dry May (less than 50% of normal rain) in the lower Midwest, plus the emergence and growth of crops that require adequate topsoil moisture, has quickly deteriorated conditions in parts of the Midwest.
"Extension agents in Iowa and Missouri reported curling corn leaves, stunted or no root growth, and soybean emergence problems, with some cracks in the soil. Stream flows have declined rapidly during the past few weeks. According to the Iowa State Climatologist, rapid deterioration of the crops is likely in the next few weeks if substantial rain does not arrive as crop moisture needs greatly increase over the period and subsoil moisture is mostly out of reach of young plants at this stage of development."
On the Plains, scattered showers and thunderstorms are benefiting pastures, summer crops, and immature winter wheat, although some areas remain very dry.
Some of the most significant rain is falling on the

southern High Plains, where gradual recovery from last year's historic drought continues.

Across the southern half of the region, the rain is causing minor winter wheat harvest disruptions.
In the West, precipitation is returning to the
northern Pacific Coast. Elsewhere, dry weather favors fieldwork, but cool conditions are slowing crop growth.
In the South, showers are confined to the
southern Atlantic region, where soil moisture for pastures and summer crops has improved in recent weeks. However, extremely dry conditions persist in several parts of the region, particularly in the Mid-South.
Across the
eastern half of the U.S., a cool weather pattern will be replaced by above-normal temperatures during the weekend. Meanwhile, a reinforcing surge of cool air will arrive in the West.
The Weather Ahead
During the next several days, most of the significant precipitation will occur in the
Deep South and across the nation's northern tier. Five-day rainfall totals could exceed 3 inches along the Gulf Coast and may top an inch from the Pacific Northwest into the upper Great Lakes region.
In contrast, dry weather will prevail in the
Southwest, while only light showers will occur in the Midwest.
Temperatures should average above normal in the southern High Plains, Great Lakes region, eastern Corn Belt, and Northeast.
For More Information
---