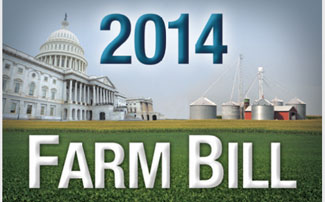 New price landscape, new programs alter crop insurance strategies
It's a brave new world for federal crop insurance with new rules and new economics. "The big story is the likelihood of smaller revenue guarantees this year," says Steve Johnson, Extension farm management specialist at Iowa State University. 

As winter set in, the situation didn't look quite as dire as it did in early fall when corn prices hit $3.50. Still, 
Revenue Protection(RP) for corn appears to be as much as $50 per acre less than 2014, assuming December 2015 corn futures during February average $4.30, compared with 2014's $4.62. 

Deciding what crop insurance strategy to select might depend on whether the bulls or bears rule the trading pits in the weeks ahead. 
Increasing coverage will be a tough call given present crop prices, Johnson acknowledges. That's partly because premiums at high levels of coverage are subsidized at a considerably lower rate. From 65% to 70% coverage, the subsidy is 80% for enterprise units; at the 85% level, the subsidy drops to 53%. 

For producers who irrigate, a new option might reduce the pain of lower guarantees. New for 2015, farmers can opt to separate enterprise units and coverage levels—along with guarantees—by irrigated and non-irrigated practices for the same crop. 

One option is to reduce coverage levels on irrigated land—which has less risk—and increase coverage on non-irrigated land, says Rhonda Smith, vice president, Farm Credit Services of America. Premiums for 
irrigated land will be lower, she adds.

During the 2012 drought, for example, some irrigated fields in South Dakota yielded as high as 190 bu. per acre and as low as 50 bu. on the same farm, says Joe Reints, agency manager, Security State Insurance, Chancellor, S.D. Farmers didn't receive a payment in some cases. By separating enterprise units, it likely won't happen again. 

Additional noteworthy crop insurance changes for 2015 include:
Producers who enroll in Price Loss Coverage (PLC), can elect the Supple-mental Coverage Option (SCO), which provides shallow loss coverage up to 86%, the difference between multi-peril coverage and a higher level of coverage. Losses are triggered when county losses are greater than 14%.
In years when yields are below the 10-year county average, USDA's Risk Management Agency will allow farmers to elect to exclude those years in their Actual Production History (APH), Smith explains. New for 2015, producers will be allowed to exclude yields in their database when county yields were below the 10-year average, adds Gary Schnitkey, University of Illinois ag economist. Because of that, producers might be able to omit 2012 yields from their APH. 
The conservation compliance provision ties the premium subsidy to adherence with the Highly Erodible Land Conservation and Wetland Conservation rules. Producers out of compliance with the rule can obtain federal crop insurance, but with no premium subsidies. Loss of subsidy occurs the year after a violation is determined and all appeals are exhausted.
For farmers or ranchers with less than five years of full-time farming experience after age 18, the farm bill provides an additional 10% premium subsidy. "This could save $7 to $10 per acre," Reints says. Administrative fees are also waved. Anyone enrolled in college or in active military service can exclude that year of experience. The exemption still applies if students work on the farm during the summer or during breaks, providing they receive a wage. However, if the students have a significant financial benefit or receive proceeds from the sale of crops or livestock, they are not exempt. 
For native sod broken or wetlands tiled after Feb. 7, 2014, the crop insurance premium subsidy is reduced by 50%. This could amount to no subsidy for higher levels of coverage on revenue policies, Smith explains. This provision applies to Montana, North Dakota, South Dakota, Nebraska, Iowa and Minnesota. The rule was created out of concern that new cropland was being developed in fragile areas, Reints says. "There's more native sod than you might think," he adds. 
Farmers can elect whole farm insurance for the first time. While this won't likely appeal to corn, soybean and wheat producers, it might for non-commodity and specialty crops, Schnitkey says. 
For more details on the new farm bill provisions and how they shape your decisions for 2015, visit www.AgWeb.com/farm-bill