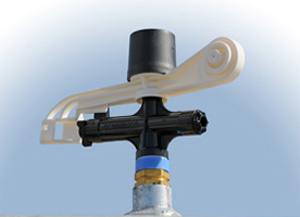 By Loretta Sorensen
Evaluate sprinklers to save money, increase efficiency
Every time an irrigation pivot completes a circle, farmers could save up to $210 by reducing pumping plant pressure by 20 psi. The lower pressure also can increase application efficiency by
reducing evaporation losses, leading to higher crop yield.

Advanced sprinkler technology plays a big part in improving irrigation efficiency. Dealers can assist in selecting the right sprinkler package, but producers need to know the soil textures, field slope and available water supply to identify the most efficient sprinkler type.

"Know how much water your soil profile holds and how much water you need to apply [net irrigation requirement]," says Dean Yonts, associate professor of biological systems engineering at the University of Nebraska–Lincoln. "With a 20 psi pressure reduction, electric motor pumping costs decrease $45 per inch of irrigation water applied. With a diesel engine, pressure costs are lowered by $210 per inch."

University of Missouri irrigation specialist Joe Henggeler highly recommends operating pivots at the lowest possible pressure.

"To improve efficiency, you might not have to use the same type of sprinkler on every span," Henggeler says. "On the outside, you might want sprinklers that throw water a long distance."

New nozzle technology allows sprinklers to be adjusted midseason to accommodate lower ground-
water supplies or changes in water levels during the heat of summer. Nozzles can be taken out and turned around to operate more efficiently with fluctuations.

"Application needs to be as uniform as possible," explains University of Nebraska–Lincoln Extension irrigation specialist Bill Kranz. "You do not want runoff problems. Just about any newer nozzle works with older pivot systems, but irrigators must make sure that new sprinklers are installed in the correct position."
Test the spray. Thoroughly evaluating a new or existing sprinkler package involves a few simple steps. Henggeler recommends setting a number of catch cans under both the lateral and end gun areas.

"Testing pivots in Missouri, we found that application rates under those two areas often were unequal," Henggeler says. "That can be resolved by replacing the existing end gun orifice with either a larger or smaller orifice to balance the system."

Double-checking the pivot can be done with a 3' long, 3⁄8"-diameter T-rod.

"Irrigate and then, two or three days later, walk the length of the pivot," Henggeler says. "Every 100' or so, push the rod into the ground as far as you can. It will push through hardpan but stop at the wet-dry surface. Under typical Missouri conditions, the rod should penetrate the soil to a depth of 12" to 18". If you can push the rod down to 2', you're over-irrigating. If you can't push it down to 12", you're not applying enough water."

Drier locations should probably wet deeper. Local experts can help identify the desired wetting depth.

"Regardless of ideal wetting depth, if an irrigator consistently penetrates down to the same depth after irrigating, he's replenishing what the crop just used, which is exactly what you want to do," Henggeler adds.

Low-pressure sprinklers have greater sensitivity to pressure variation from changes in field elevation. To ensure uniform application, many systems require pressure regulators on each sprinkler. On a low-pressure system using guns, booster pumps can help end guns distribute water.
Save money. To determine the economic benefits of lowering pumping pressure, producers should compare sprinkler package costs with energy savings, application efficiency and yield increases. Also consider the life of the system and its components. If more outlets are needed for the new sprinkler package, the age of the existing system might justify replacing the pivot rather than paying for alterations.

"In most cases, the pump and power plant need to be redesigned to efficiently operate with the new conditions," Kranz says. "Whatever investment is made, it should be paid for through savings in operation costs and increased yield. Failure to redesign could limit the benefit of switching to a lower-pressure sprinkler."