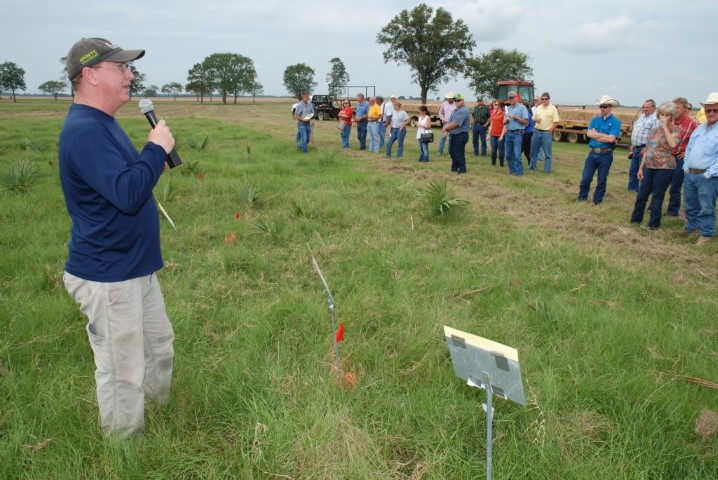 Cattle producers drove as far as 100 miles to get the latest research-based information that included pharmaceutical best management practices, buying and retaining replacement heifers and pasture weed control at the second annual northeast Louisiana beef and forage field day at the Goldmine Plantation.
LSU AgCenter agent Keith Collins from Richland Parish, who helped coordinate the event, said the county agent's job is to get the information to the people who need it, and the field day is a great way to do that.
"Goldmine Plantation is just a great place to have a beef cattle field day," Collins said. "I've worked with them for a long time, so they let us do things that give producers practical, hands-on experience."
The attendees heard about factors influencing calving difficulties from Rayville veterinarian Lyle Bennett.
The breed of the bull and the breed of the cow are two of the top issues involved, he said. Calving time is another issue he discussed, maintaining that late fall is the best time to calve in Louisiana.
LSU AgCenter forage specialist Wink Alison opened the program with a talk on the impact of ryegrass planting methods on production.
"Tillage can have the most impact," Alison said. "You can plant ryegrass from straight onto a pasture through having a totally prepared seedbed. For early season production, the prepared seedbed is better."
Alison also discussed the importance of a heavier seeding rate early in the fall for better early production.
LSU AgCenter beef specialist Karl Harborth discussed the importance of proper bull selection to improve herds.
"We've found through research that it is typically best to breed a non-Brahman bull on Brahman cows," Harborth said. "This normally gives the best chance for calving ease and lower birth weights."
LSU t School of Veterinary Medicine professor and veterinarian, Jacques Fuselier talked about pharmaceutical best management practices in a cattle operation, focusing on proper ways to give injections and the proper storage of vaccines.
"One thing that cattlemen tend to be guilty of is laying vials of vaccine on the dashboard of the truck and riding around all day in 90- to 100-degree weather," Fuselier said. This is a bad idea because many vaccines need to be kept cool and protected from sunlight.
At a weed control demonstration plot, LSU AgCenter weed and turfgrass specialist Ron Strahan discussed research on saw palmetto and other weeds.
Strahan talked about palmetto control – either broadcast or spot treatment – horse nettle, smut grass and a range of other grasses."
Most pasture weeds have run their course by now, but the information will help cattlemen prepare for next season, Strahan said.
Will Butterfield, the manager of River Ridge Plantation in Boyce, Louisiana said the information that was most important to his operation was about ryegrass.
"We have about 1,000 grazing acres where we raise grass-fed beef, pastured pork and pastured lamb," Butterfield said.
LSU AgCenter economist Ross Pruitt discussed buying and retaining replacement heifers.
"Expanding your herd is not something that needs to be done without a lot of forethought," Pruitt said. "To develop your own heifers, you're probably looking at a bare minimum of $1,700 from the time that calf is born until you get your first calf out of her."
Pruitt said it's a multi-year investment, and producers are delaying some of their revenues, which has tax consequences.
Phil Elzer, LSU AgCenter associate vice chancellor and program leader for animal sciences, said the goal of the AgCenter is to have a beef field day in each region of the state.
"The AgCenter has five regions, and we now have a beef coordinator in each one," Elzer said. "This will give us uniformity in programming and it's great for the producers."
The coordinators are the point people for the region, Elzer said. They are responsible for training AgCenter agents; provide information to the producers through field days, and follow a uniform curriculum for the Louisiana Master Cattleman program.
Richard Morris, manager of Goldmine Plantation, said he enjoys having the field day and looks forward to hosting it for years to come.

Source: Louisiana State University Extension