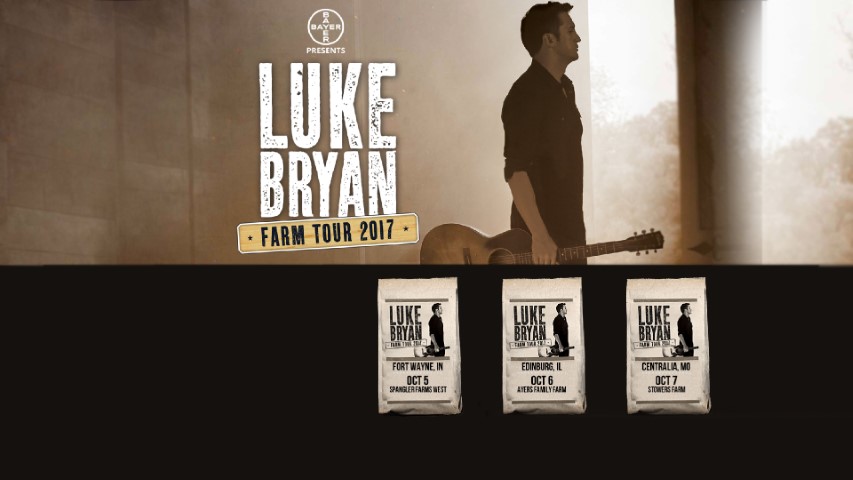 Country music star Luke Bryan has been involved in agriculture since he was born. He grew up in rural Georgia, spending his summers scouting cotton.

Nearly a decade ago, the ACM and CMA Entertainer of the Year came up with the idea for the Luke Bryan Farm Tour.

In 2017, he began his Here's to the Farmer campaign, asking fans to show their support to farmers and ranchers by using the hashtag #HeresToTheFarmer. Every time the hashtag was used, Bayer donated one meal through Feeding America.
Last year, the goal was to donate 500,000 meals. They decided to double their goal to 1 million meal donations before the end of the year.  In less than four months, the campaign not only reached that goal, but surpassed it in less than four months.

"I come from a farming background so I understand the hard work and passion it takes for farmers to feed America and feed the world," said Bryan. "It just seemed like a perfect fit for me to partner with Bayer on the Here's to the Farmer campaign."

"We want to give a huge 'thank you' to Luke, his fans, state officials, and of course, America's farmers, for making Here's To The Farmer an overwhelming success," said Ray Kerins, SVP for Bayer. "Farming communities across this great nation deserve our thanks and support. Here's To The Farmer is one way Bayer was able to help hungry American families and we are incredibly proud of this campaign."
Watch Luke Bryan discuss his Farm Tour on U.S. Farm Report above.