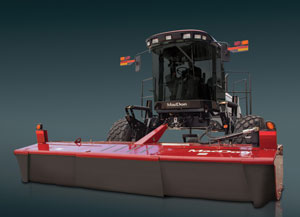 Canada-based MacDon Industries Ltd. is seeking a buyer for a deal that might reach $1 billion, the news organization Reuters reports. The manufacturer makes windrowers, draper headers for combines and other agricultural equipment.

Four unnamed sources are referenced in the report, which states that Goldman Sachs Group is advising the manufacturer on the auction.
(See related photos: New MacDon Equipment, 2007 to 2012)
Last year, Macdon introduced two new models in its M5 Series windrower lineup, the M105 and M155.
In January 2012, John Deere and MacDon Industries Ltd. established a strategic alliance. As part of the agreement, MacDon manufactures John Deere branded self-propelled windrowers, including draper and auger headers, and pull-type auger mower conditioners.
Click here to read the complete Reuters report about Macdon. Go to AgWeb.com's Machinery page for more information on this developing story.

Watch this video to learn more about Macdon and the MacDonald family: