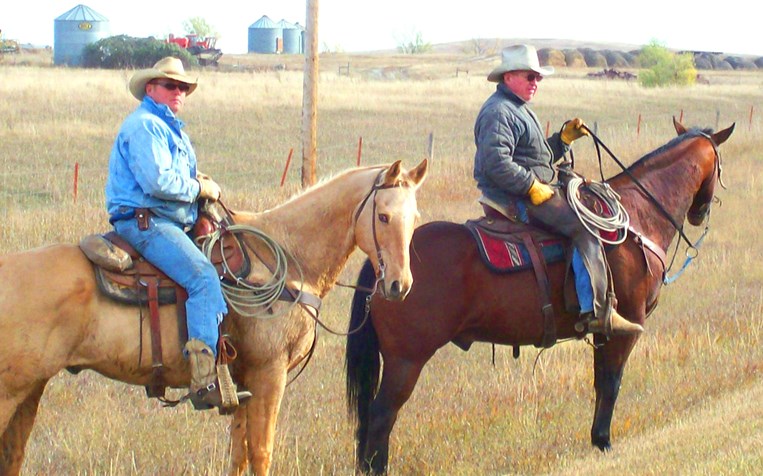 Sitting on pickup tailgate with a deer rifle against his shoulder, Jared Schott peered down the scope and watched a hired hand climb up a rocky outcrop, dwarfed by a backdrop of buttes rising like badland castles. Majestic scenery notwithstanding, the skittish hand clambered gingerly upwards and glanced back at rapid intervals, well aware of the scope's focal point. With bearings anchored by a railroad tie corner post, Schott guided the hand along the sight line to lay down post markers. Welcome to yesterday's fence building at Schott Ranch.
Today's fence line at Schott Ranch is far straighter, with a rifle replaced by a GPS. Schott has one foot firmly planted in history and the other in a constant toe-tap toward technological innovation. Equal parts farmer, rancher and tech cowboy, Schott is hard-wired to improve the mechanical components of his operation, and he's done so with a succession of remarkable efforts. Agriculture's consummate maverick is at work in the wide open spaces of South Dakota and he's in constant pursuit of like-minded producers.
Schott Ranch is a picturesque jumble of knobs and ridges tucked just west of the Missouri River (West River) and north of the Grand River at the north-central tip of the Mount Rushmore state. Mule deer, whitetails, pheasants, grouse, coyotes, and mountain lions all carve out their share of ground. Buttes split the ranch as the last scars from a glacial age, and hide the ghosts of Lewis and Clark, George Armstrong Custer and Sitting Bull.
In the middle of it all, Schott, 49, farms and raises livestock (Limousin cattle and commercial Angus) on some of the same ground originally owned by his great-grandfather, and his parents have an adjoining ranch seven miles to the south. Within several miles of the Standing Rock Dakota Access pipeline protests, he grows 2,000 acres of corn, soybeans, sunflowers and wheat on land just outside Mobridge that rubs against the Standing Rock Sioux Reservation. (The largest water tower in the U.S. stands on Schott's property and supplies much of the reservation.)
As a child, Schott rode bulls and counted the days until the National Finals Rodeo each year. Each time the finals rolled around, with few exceptions, the family television went on the fritz. When Schott's father got sick of the tech pain and tossed out the tube, Schott had to endure six months of harsh South Dakota winter without TV shows to fill his time, no small task for a young boy. Enter mentor Don Hertel, Schott's nearest neighbor: Hertel provided a steady stream of broken gadgets (including TVs) to fix and Schott became hooked on mechanics and electronics. "I look at Jared like a son. As a kid, he was an unusually fast learner and was consumed with wanting to know how computers worked," Hertel, 71, says. "Building his own motorcycle or designing a scoreboard, he could do it all."
In 1986, Schott attended South Dakota State University along with best friend and tech guru Steve Waldner. Waldner traded electronics tips for guitar lessons and the pair started a band, building their own light show from absolute dumpster scrap and a pyrotechnics show from PVC, gunpowder and copper wiring. The farm boy had gone hard rock with a bent for digital technology. "If I hadn't known, I'd have never guessed Jared was a farmer because he was so well-rounded in so many fields. He took everything electronic to the next level," Waldner recalls.
"We were working at a company called Daktronix wiring circuit boards," Schott recalls. "I paid attention to what the components did so I could someday apply the tech to my farm. We'd hit the dumpster at the end of work shifts and then rebuild with what we found."
"Jared had all these ideas and was determined to learn whatever it took to bring those ideas to fruition. He's a jack of all trades that can do it all. A true renaissance man," Waldner adds.
Schott graduated from college in the midst of tough farm economy in 1991, and walked into the tech world, never realizing his farming absence was merely an interval. He took a job in graphic design making television commercial mock-ups. He built his resume and worked for several digital companies, moonlighting as a mechanic in a Harley Davidson store and getting paid in motorcycle parts. Kodak caught wind of his talent and sent Schott to Washington, D.C., where he was contracted to work on software at the Treasury Department, the Justice Department, the Pentagon, and Quantico. All the while, Schott was learning skills he'd soon use on his farm 1,500 miles to the west. At night and on weekends, Schott built his own airplane with a 300-mile range using ribs from Cubs and other old models, and eventually dropped in a drone engine bought from a military testing facility. Built and flight-tested in D.C. just after 9-11, the aircraft would later play a big role back on Schott's home operation.
With D.C. city life wearing thin and Schott's parents getting older, he cashed in his 401K and headed home with a wealth of accrued technological knowledge to work ground originally owned by his great-grandfather. He was bursting with plans, but wasn't sure how to implement them. Schott began using the DIY airplane to check livestock, make parts runs, and search for missing cattle. "We sometimes tie candy to water balloons and drop the packages over the farms of our bull customers," he says.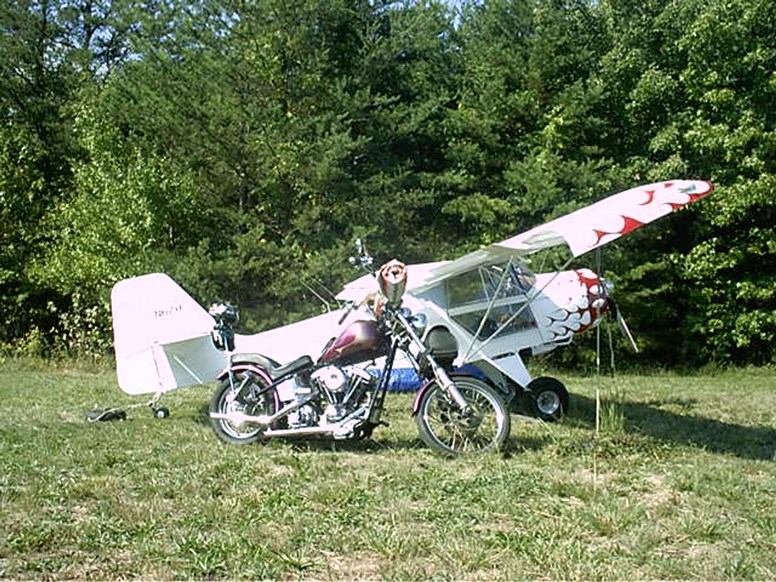 On the ground, Schott needed an automatic gate entry to gain pasture access and developed a system from scratch. He removed the control system from a remote control vehicle (along with the axles off a lawnmower) and connected the relays to a gate controller. Basically, he wired a remote control toy to power relays to open and close the gate.
Agricultural producers are caught between a tech onslaught and anemic commodity market, and the confluence has pushed innovators like Schott to consistently press for new DIY angles and opportunities. He'll soon begin using the airplane to seed cover crops. "I've never been able to justify toys because all funds go to farm equipment. Even my GPS is used. If I can't afford it, I'll try to make it," he says.
Schott recently bought several $20 backup cameras and monitors online to create an equipment surveillance system. He used 100' of spare telephone wire and made a camera system to monitor booms on his pickup sprayer, combine hoppers, and a moody belt on a fertilizer spreader.
He shies away from new equipment, but sticker price is not Schott's only concern. "I can't afford a service call from 100 miles away just to tell me a sensor is out of whack. Or if bad weather is coming and I've got to get a crop out, I've got to handle tech problems myself," he says.
Agricultural producers certainly know their equipment, but to track repairs and parts efficiently across an entire fleet of pickups, tractors, combines and pickers can be extremely complicated. Schott is trying to clean up the process and his current top tech project is Shop Dr. (shopdrusa.com), a user-friendly database originally created to track equipment repairs. It's the first place he goes to find serial numbers, makes, models and inventories before calling for parts. "I came up with Shop Dr. to get a foot forward when I'm crunched for time," he says.
Instead of running to the parts store to buy a $100 ignition or chip, Schott created a database to search his own inventory with a smartphone or laptop. Shop Dr. was initially a troubleshooting process for DIY equipment repairs, but it soon expanded to oil change tracking. Schott hooked up a $15 reader to scan bar codes. "Oil filter, air filter, and ignition part numbers all have to be located quickly during planting, harvest or bad weather. The database shows you instantly," he says.
Schott also has his eye on DIY grain bin technology. Rather than climb the ladder and peek inside to refresh his memory, he wants to build a real-time inventory monitored by sensors for his 12 grain bins to record temperature, moisture, filling dates and precise level, and relay the data into Shop Dr. "At year's end when I want to tell the taxman or banker how much grain I've got, I need a better system," he explains.
Equally comfortable behind a keyboard, in a cockpit, on a tractor, or in the saddle, Schott may be programming or installing a sensor one day, followed by rattlesnake hunting the next. Each fall, he culls rattlesnakes across his property in an unconventional roundup with his uncles and cousins, filling 5-gallon buckets with scores at a time. "If I'm at Jared's house and he tells me to look inside a bucket in the yard, I already know what's inside. I don't like snakes and I don't want to see a bunch of 3' rattlers," Hertel laughs.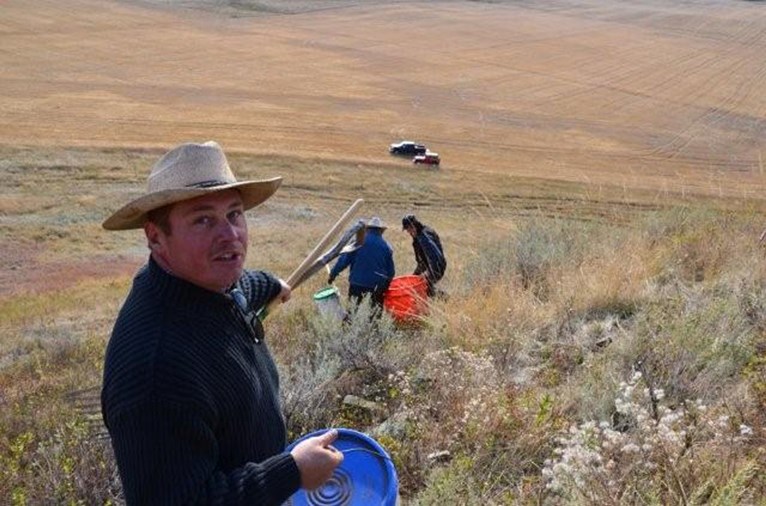 Alongside his innovation, Schott expanded his farm by taking back leased land, and switched to a no till system. He doubled wheat yields and jumped from 75 bu. per acre corn to 150 bu. per acre corn, strong yields for the West River area. Yet, most of his equipment is pre-1980 and lacks variable rate capability, and he is in a constant search to find technology that adds efficiency and ultimately lowers costs around his operation.
"New angles and opportunities never stop running through my mind. It's a constant stream of ideas but it's never a burden except when I can't act, and then it gets frustrating," he says.
What does he say all producers need to foster DIY innovation? A centralized, one-stop hub for agriculture technology. "Ideas, ideas and more ideas. If farmers had the opportunity to take advantage of better resources, they would do so in a heartbeat," he explains. Every winter, he searches for like-minded innovators and programmers on farms, hoping to make a few more connections: "The more minds you've got in one spot, the greater the innovation. Farmers need farmers as resources."
Schott once served as vice president of the Experimental Airplane Association (EAA) Chapter 1362, and says the EAA is an ideal example of innovation driven by necessity, with pilots connected and constantly sharing tech ideas. "If they stall and fall out of the sky, the consequences are dire. Every innovation counts. With farming, a stalled combine doesn't spark that sort of desperation to get it right," he says.
Agriculture's version of MacGyver is roaming the rows and pastures of West River, South Dakota, and he's hell-bent on finding another digital backdoor leading to long-term success. Whether inventing new technology or innovating established equipment, Schott keeps his focus centered on costs. He avoids new farm machinery expos and shows, and stays grounded with what he knows he can afford.
"There are lots of guys out there just like me, wondering how to find a like-minded farmer tinkering in his back yard," he says. "The innovation is just waiting to be found, but sometimes we have to find each other first."