Kubota Enters New Markets
With plans to release more than 92 products in 2015, Kubota will make a splash in the market. The company is pouring resources into expanding all equipment segments, with a specific focus on row crop, livestock and hay and forage.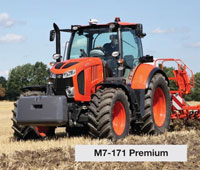 Tractors: Three models—M7-131, M7-151 and M7-171—round out the M7-Series, the new livestock and row crop tractor line. Powered by a Kubota V6108 engine, the M7-171 is the highest horsepower tractor Kubota has ever offered. All models are Tier 4 Final-compliant and equipped with two transmission options. The Kubota Variable Transmission (K-VT) is a continuously variable transmission that offers an infinite number of forward and reserve speeds. A three-point hitch located at the front of the tractor and optional front PTO allows the tractor to run two PTO implements at one time. 

The tractors feature a LM2605 mechanical self-leveling front loader attachment. Equipped with a single-lever hydraulic quick coupler, the operator can attach and detach all four hoses. 

Kubota's Headland Management System provides in-cab technology and works with GPS and ISOBUS-compatible implements to provide customizable programs to automate operations. The all-in-one management system is displayed on a single large LCD touch screen.

Production of the M7-Series will begin in April 2015, and the tractors should arrive to dealers in late summer.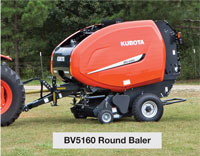 Hay and forage tools: In May 2012, Kubota acquired Kverneland ASA, which propelled the second phase of development for hay and forage tools. About a quarter of the new products in 2015 will be hay and forage tools. 

The 4'x5' and 4'x6' round baler models feature the PowerBind net wrap system. The mower conditioners offer gentle rolling and semi-swing conditioning. Phase two also includes easy-to-operate trailed disk mowers with enhanced cutting performance and a bale wrapper with a three-point mounted turn table and trailed turn 
table wrapper. Kubota's rakes and tedders will also feature updates.   

For more information on the 2015 product line, visit www.kubota.com.
---
Manage Center Pivot Path
With up to 88% more width than standard track fillers, the Orthman Track Tillr works to repair tracks and ruts caused by center pivot wheels. 
Its design uses a set of tooling to bust up hard ruts, fill and pack the track with soil and then feather out the soil surface up to 100" wide to create a level seedbed. The Track Tillr tills and seals the track from the center out to the edges of the machine. This generates a flatter surface and puts less residue in the track to create optimal sub-surface conditions for strip-till and planter operations. 

For more details on the Track Tillr and other new products from Orthman, visit www.orthmanag.com.