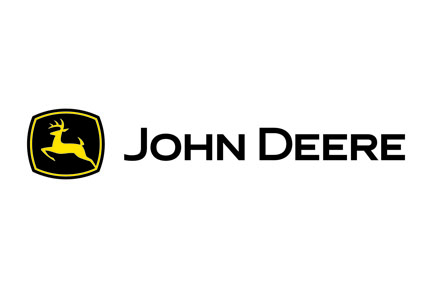 With large square balers, tractors, a self-propelled forage harvester, a sprayer and more, the 2015 John Deere lineup is broad and focuses on enhancing efficiency.
"We believe our products, dealer channel and integrated technology give us a very good synergistic approach to provide value to our customers," says John Lagemann, senior vice president of sales and marketing for the company.

The highlights of John Deere's recent rollout include:
9R tractors. Built for power, the 9R/9RT four-wheel-drive and track tractors hit the market as the brand's most efficient and productive workhorses. The series features six models: the 9370R, 9420R, 9470R/9470RT, 9520R/9520RT, 9570R/9570RT and 9620R. Powered by a 15-liter Cummins OSX15 engine, the 9620R is the highest horsepower tractor John Deere has ever offered. The rest of the series is equipped with a PowerTech PSS 9-liter or 13.5-liter engine. All engines are Tier 4 Final-compliant. The 9R/9RT lineup includes three key options to increase efficiency and productivity in the field: e18 PowerShift transmission with Efficiency Manager, HydraCushion Suspension System and Active Command Steering.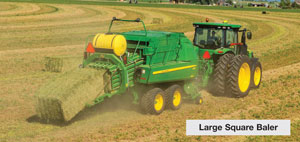 Large square balers. Both high-capacity balers, the L330 and L340, are designed to produce dense, well-shaped bales regardless of field conditions. The balers feature a heavy-duty drivetrain with a 45 stroke-per-minute gearbox. The L330 has a 83" working width and produces 3'x3' bales. The L340 has a 90" working width and produces 3'x4' bales. Both models have a heavy-duty single-fork system to tightly compress the crop before transferring the hay into the bale case. Built with on-board hydraulic density controls, the in-cab monitors regulate the hydraulic pressure on the cylinders against the bale case. The L330 is equipped with three hydraulic cylinders and the L340 has four.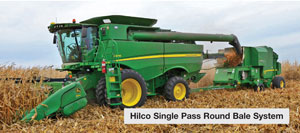 Partnership for feedstock baling. Hilco and John Deere are partnering to develop a system that harvests corn and bale corn stover in one simple step. The system is fully automated and offers continuous round baling without stopping. The baled material comes directly out of the back of the combine and never touches the ground. With removal rates of 0.8 to 1.4 tons per acre, the system removes fewer nutrients from the soil. The Single Pass Round Bale System bales a high percentage of cobs and husks. 
R4045 sprayer. The 1,200-gal. sprayer is equipped with a 346-hp Tier 4 Final PowerTech PSS 9-liter engine with four-wheel hydrostatic drive. Top field speed is 25 mph and transport speed is 35 mph. The 90', 100' or 120' dual swing-link suspension flat-fold booms can apply up to 230 gal. per minute with a high-flow pump and dual flow meter. The R4045 can be easily converted to a dry nutrient applicator by installing a 200- or 300- cubic foot New Leader dry spinner spreader box.  
S-Series combine and 645D Hydraflex draper. Updates and new features to the S680 and S690 combines include the Tough Crop Packages consisting of active concave isolation, interrupter bars and heavy-duty separator gates to squeeze more than 20% throughput out of machines and increase small grain harvesting capacity. The 645D Hydraflex Draper sports a 45' operating width, which allows farmers to cover 10% more acres per day. The wide center feed section allows 15% more crop into the combine, and the 25% greater slip-clutch capacity maximizes draper efficiency. 
MyJohnDeere Operations Center. To manage machinery, agronomic and logistics details, MyJohnDeere Operations Center offers a secure way to upload data via JDLink or backup tools. The platform is open, allowing data to be shared with dealers, crop consultants and advisers from any Internet-enabled device. Tools such as Field Analyzer and Difference Maps offer insight on yields, cost optimization and risk management. 

In the near future, John Deere plans to release its first-ever quad track tractor. Stay tuned for a release date and more information.