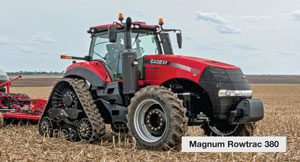 With its 2015 product launch, Case IH continues to focus on the ultimate goal of boosting yields. From a new line of tractors to integrated planter technology to an expanded lineup of hay and forage equipment, Case IH unveils a variety of machines.
Magnum Rowtrac tractors. With 18 years of experience in track technology, Case IH expands its tractor lineup with the 340 and 380 Magnum Rowtrac. Both models feature an 8.7-liter Final Tier 4-compliant engine, with up to 340 hp and 380 hp, respectively. The Magnum Rowtrac couples the Steiger track technology and the front steering system from a fixed-frame row-crop tractor. 

The continuously variable transmission (CVT) is standard on the 380 and the 340 with 136" tread spacing and above but optional on the 340 with tread spacing less than 136". 

A redesigned front tire offers 40% less pounds per square inch than traditional tires, which reduces soil compaction. The tire enhances handling and ride, with less rubbing and burning on the ends and full power to the ground.

Both Magnum Rowtrac models are adaptable to narrow or wide row spacing with a versatile undercarriage. 

"This is performance you come to expect from a Quadtrac brought into a fixed-frame row-crop tractor," says Zach Hetterick, marketing manager, high horsepower tractors. "But it still provides the flotation you expect from a track tractor, with four points of contact for increased flotation and more traction with less compaction."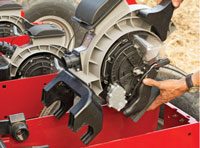 From the factory, Case IH Early Riser planters will be ready for installation of Precision Planting technology.
Early Riser planters. Case IH and Precision Planting are partnering to bring the latest agronomic abilities to planter technology. Customizable options for a new or used Case IH Early Riser planter include: Clean Sweep; vDrive with vSet vacuum meter system; 20/20 SeedSense monitoring system; wireless, cloud-based FieldView and FieldView Plus; and DeltraForce hydraulic down pressure system.  
Axial-Flow combines. With up to 550 hp, the Axial-Flow 7240, 8240 and 9240 combines deliver more power in the field. Equipped with selective catalytic reduction (SCR) technology, all machines meet Tier 4 Final engine emissions standards. The SCR technology allows for maximum horsepower without compromising efficiency. Axial-Flow combines feature grain tank capacities up to 410 bu. with unload rates up to 4.5 bu. per second. 
RB5 series round baler. Delivering 20% more capacity than previous models, the RB5 series round baler is available in three sizes: the RB455 (4'x5' bale), RB465 (4'x6' bale) and RB565 (5'x6' bale). The overshot feeder is standard on the hay, silage and wide pickup configurations for even feeding into the bale chamber. The balers have a redesigned pickup, double spider gears, solid line bars and rubber-mounted teeth. 
AFS Connect 2.0. Using advanced telematics technology, Case IH's AFS Connect 2.0 help producers effectively monitor and manage their operations. The system provides machine location and diagnostics with maintenance and service alerts—allowing for two-way messaging with machine operators. 

For more information on the 2015 product line, visit http://www.caseih.com.