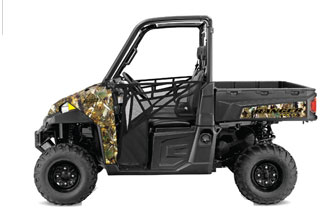 For the 2015 model year, more than 75% of the Polaris lineup includes performance upgrades and restyling.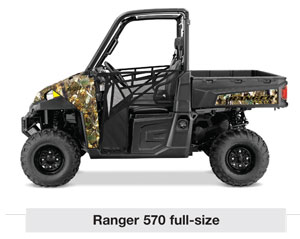 The Ranger 570 full-size, a three-seat, side-by-side model, sports 44 hp from a ProStar 570 engine with dual overhead cams and four valves, along with an automotive-style electronic fuel injection (EFI) system. All full-size vehicles have intake openings to improve airflow for engine and clutch intake systems. With up to 40 hp, the Ranger Crew 570 full-size, which seats six, offers the same chassis features as the Ranger 570 full-size but has a 113" wheelbase that allows for a second row of seats. The Ranger ETX features a 31-hp EFI ProStar engine with an internal counter-balance shaft. The ETX model is equipped with dual overhead camshafts and a four-valve cylinder head.

Price range for the side-by-side models: $8,699 to $12,499.

In the ATV category, Polaris adds six models, including the Sportsman XP 1000 and Sportsman Touring XP 1000. Both feature an 88-hp ProStar 1000 Twin EFI engine with a single overhead camshaft (SOHC). The units offer 1,500 lb. of pulling and towing power, a front-rack capacity of 120 lb. and a rear-rack capacity of 240 lb.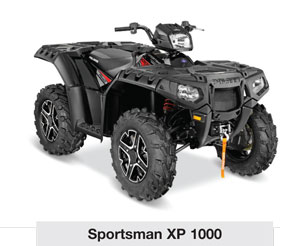 The Sportsman 570 SP and Sportsman Touring 570 SP Double A-Arm Front Suspension has optimized geometry for the vehicles' standard electronic power steering (EPS).

The Sportsman X2 570 features the same chassis as the Sportsman Touring 570 EPS with a second seat that flips up. The Sportsman ETX has the Sportsman 570 chassis but with a smaller and lower profile. The model has a 30-hp EFI ProStar engine featuring an internal counter-balance shaft. 

Price range for the Sportsman models: $5,899 to $13,299. 

To learn more, visit http://www.polaris industries.com.