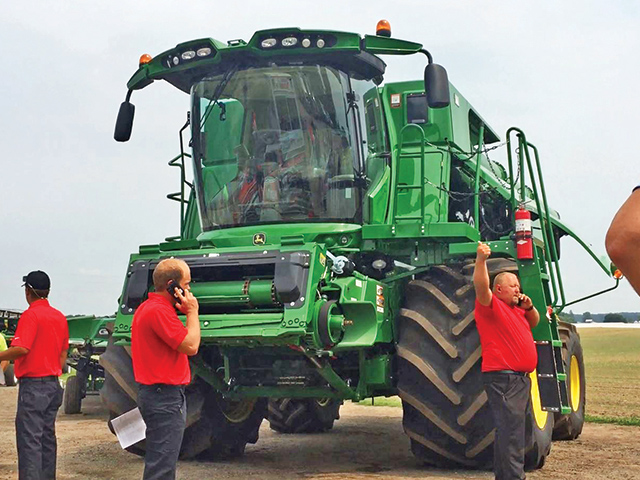 This year has been interesting for used combine values. Despite the continuing headwinds in the ag economy, used combine values finished strong in 2017 when soybean yields came in late and much higher than expected and buyer demand surged. That momentum continued into 2018.
Values began to soften mid-June 2018, particularly on 4- to 6-year-old used combines in average condition. The double whammy of discouraging commodity prices coupled with the president's trade war and tariff issues, with China in particular, began to weigh down folks.
At the same time, I was seeing strong hard cash auction prices on nice low-hour 1- to 3-year-old used combines, such as the 2017 model John Deere S680 four-wheel drive with only four separator hours that sold for $360,000 at an Aug. 15 auction in west-central Michigan. That price now holds the record for a combine sold at auction without a head. On Aug. 18, a 2016 Case IH 7240 Hillco sidehill combine with 290 separator hours sold for another strong price of $251,000 at a farm auction in bone dry northwest Missouri.
Why the strong buyer demand on the low-hour 1- to 3-year-old used combines? Warranty is a huge driver as well as the fact farmers haven't updated combines for five years, sitting tight since mid-2013 when commodity prices took a downturn. The rising price of new combines, and really all types of farm equipment due to the price of steel and aluminum thanks to tariffs, is a factor as well.
Slightly older combines, 4 to 6 years old, in great condition are sought after as well. There are more than 1,900 of these combines for sale on MachineryPete.com.
On the auction trail, a 2010 John Deere 9670 STS combine with 317 separator hours sold for $158,000 at an Aug. 22 farm sale in west-central Minnesota. A 2011 model with 628 separator hours sold for $161,000 at a March 24 farm sale in northwest Illinois.
The average auction price on 2012 model John Deere S680s is $130,750, which is down from $156,729 in 2017. That average auction price on 2012 model S680s is currently 70.4% of the average dealer advertised price at $185,832, a bit below the 74% to 76% ratio our data has historically shown during the past 20 years I've been tracking.
If the tariff aid payments increase used combine purchases there could be a buying opportunity ahead on 4- to 6-year-old machines.