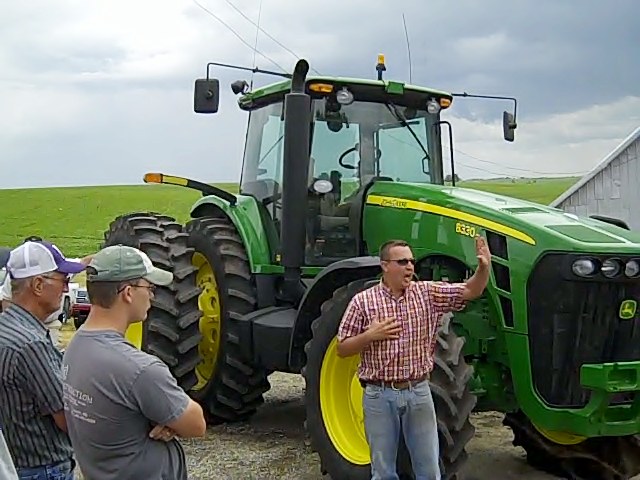 The dog days of summer 2014 were interesting indeed. As the calendar flipped to August and the days slipped by, used farm equipment values continued to splinter based on two factors: age of equipment and type of auction.

Boiling it down, older equipment (10-plus years) in really good condition held or even increased its value. This was particularly evident at farm retirement or estate auctions. However, larger late-model equipment (one-to-five years old) sold for softer prices at wholesale auctions. 

The third week of August provided several perfect examples of this trend. On Aug. 18, 2014, Bosacker Auctions held a farm retirement sale in southwest Minnesota featuring several nice items. Across the sale, prices were strong, such as $17,500 for a Brent 744 gravity wagon—a new record.
A 2005 Case IH 2388 combine with a mere 547 engine hours sold for $166,000. Wow! Even with the excess number of late-model used combines sitting on dealership lots across the country, a nine-year-old Case IH 2388 in like-new condition sells for the highest auction price I've recorded for that model. 

Tractor prices were also strong at the Minnesota auction. A John Deere 6330 tractor and loader sold for $79,500. A 2008 Caterpillar MT855B track tractor with 472 hours and 30" tracks sold for $176,000, the second-highest auction price I've seen. 
When it came time to auction off the tillage equipment, the bidding action didn't slow down. For example, a Case IH 870 11-shank disk chisel sold for $79,000, a new record. A 14' International 500 plowing disk brought $6,000, double the former record.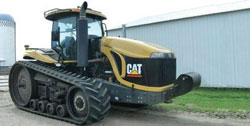 Topping the charts in the second spot, this 2008 Challenger MT855B in like-new condition sold for $176,000 at an Aug. 18, 2014, farm auction.
Taking it all in, this farm retirement auction showed just how high prices can go with a spectacular equipment lineup and venue. 

However, on the other side of this market, dealer inventory reduction auctions in July and August showed softer prices. For example, I attended an absolute auction on Aug. 22, 2014, in west-central Illinois with several really nice items (see the highlights on the data table on page 50).

The chatter at this dealer auction revolved around the seemingly softer sale prices for the late-model tractors and combines. In reality, the sale pricesweren't softer; they were in line with recent prices I've seen on other large dealer inventory reduction auctions around the U.S. and Canada.

For example, a 2010 John Deere 8345RT track tractor with 2,448 hours and IVT transmission sold for $160,000. While that seems like a soft price, it's comparable with the 2010 John Deere 8345RT with 3,124 hours that sold for $130,046 at a July 17, 2014, dealer auction in southeast Alberta, Canada (from a U.S. dealer).

When I hear folks at these sales commenting about softer prices, in most cases, they are comparing auction prices to dealer prices advertised online. Advertised prices, whetherby dealers or private sellers, are just that, advertised prices. Hard cash values are entirely different. When you put an item up for sale tomorrow and see how much it sells for, that's your current hard cash true value. 

Years ago, I learned from my father, a third-generation implement dealer, the only number that really matters is the current hard cash value.
Two Auctions, Two Outcomes