Auctions have the ability to show who has money and who is spending it. In recent months, livestock buyers have been the ones raising their hands to bid at auctions. As a result, auction prices on all types of good used livestock and dairy equipment have jumped.
For example, I've compiled 329 auction prices on New Holland 256 hay rakes at www.MachineryPete.com. From 2009 to 2013, the average auction price on this model held steady in the $1,042 to $1,260 range. This year the average auction price shot up to $1,671, the highest average sale price I've seen in more than 18 years and up 48.3% compared with 2013's average auction price of $1,127.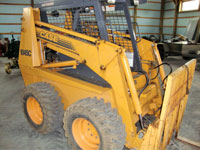 On Oct. 2 2014, this 1996 Case 1845C skid steer with 880 hours sold for $20,000 in north-central Michigan.
I've seen the exact same thing happen with good condition used manure spreaders this year. For example, from 1996 to 2011, I only saw seven New Holland 195 manure spreaders sell for $10,000 or more at auction in the U.S. Since January 2013, I've already seen six go for $10,000 or more. Another example of rising prices for good used manure spreaders was the Knight 1140 spreader that sold for $17,250 at a July 24, 2014, farm auction in southeast South Dakota. The owner paid $10,000 for it two or three years prior.

I can rattle off many similar statistics for good used hay balers, such as $21,000 for a nice 2006 John Deere 467 round baler (3,500 bales) sold at a Sept. 19, 2014, farm auction in west-central Michigan. The $21,000 sale price is the second highest I've seen on that model in 10½ years. 

The same trend rings true for small square balers. A Jan. 4, 2014, farm auction in west-central New York produced a new record high price of $6,500 for a John Deere 336 baler.
Used skid steers in good condition have also enjoyed an uptick in bidder interest at auction in 2014. Check out the data table below for recent sale prices on a variety of makes, models and ages of skid steers. A 1996 model Case 1845C with 880 one-owner hours sold for $20,000 at an Oct. 2, 2014, farm auction in north-central Michigan. That's the third highest auction sale price I've seen on a Case 1845C during the past 18 years.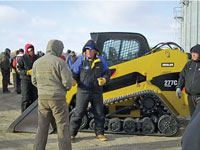 This 2011 Caterpillar 277C skid steer with 510 hours sold for $48,500 in southeast Minnesota on Dec. 5, 2013.
Buyers are on the lookout for lower hour skid steers with a bit of age. Two more record sale prices in 2014 include: a 2006 New Holland L185 with 382 hours that sold for $27,000 on July 1, in northeast North Dakota, and a 1999 New Holland LX665 with 779 hours that sold for $18,000 on Feb. 24, in north-central Missouri. 

There's another trend to note from our data. See how many of these skid steers sold at auctions late in 2013. I'm talking about the Case 1840 with 225 hours that sold for $17,050 at the northwest Wisconsin auction on 
Dec. 10, 2013. That's a new record high sale price. Also a 2011 Caterpillar 277C with 510 hours (18" tracks and 96" material bucket) sold for $48,500 at the Dec. 5, 2013, farm auction in southeast Minnesota, another new record price.

I point out the rising values late in 2013 because we could see it once again in late 2014, particularly if 
Congress bumps up the Section 179 write-off. That could be the end-of-the-year catalyst for continued strong prices because livestock and dairy producers have had a good year and will be looking to spend money on equipment purchases to help minimize their 2014 tax bill.  
I've always loved the simplicity of an auction. Put an asset up for sale, open the bidding and see how high the price climbs. That final price tells you what that item is worth on that day in that area. It's the hard cash value. This month marks my 25th anniversary covering farm machinery auctions and compiling price data. Analyzing more than two decades of used machinery trends—now that's when it gets interesting. It's been a fun ride—thanks for following along.