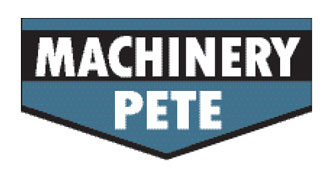 We've had some interesting developments in the used combine market as 2014 winds down. The shift in combine values is particularly evident on late-model used combines (one to five years old). Amidst the challenges of shifting used combine values, there's great opportunity. 

To get a handle on just how far values have dropped, let's allow the data to do the talking. Each and every sale price is a data point, but it's also a vote with the checkbook signaling what farmers deem that piece of equipment is worth in that condition on that day in that particular area.

More than 25 years of Machinery Pete data tells me statistics like this: John Deere 9770 STS combine values fell 21.5% during the third quarter of 2014, from an average auction price of $147,914 the first half of 2014 down to $122,973 during the third quarter. That's good to know if you'll be buying, selling, trading or appraising a John Deere 9770 STS soon.

Therein lies the opportunity: If you have been looking to buy but have been holding out because of high used equipment values, now is likely the time to seize the opportunity. For example, at a Sept. 17, 2014, farm auction we shot for "Machinery Pete TV" on RFD-TV in northwest Illinois, a very nice 2006 John Deere 9660 STS combine with 1,092 engine hours sold for $130,000. At that same auction, a John Deere 608C 8-row chopping corn head went for $30,000 and a 2003 John Deere 1770NT 16R-30 planter sold for $31,500. Those were all very good buys.

What is most interesting is who bought these items—younger farmers. Each came up to me at the end of the sale to ask how I thought they did with their purchases. I said they did very well based on the comparable auction data I compile. I saw a winning recipe with these buyers that includes:

1.knowing current used values;
2.keeping their powder dry and not buying when values were higher; and
3.patience, not aggressiveness.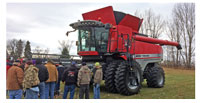 This 2012 Massey Ferguson 9540 combine with 295 engine hours sold for $201,000 at an Oct. 29, 2014, farm auction in east-central North Dakota.
I saw these traits at work again at a farm retirement auction in east-central North Dakota on Oct. 29, 2014. An excellent 2012 model Massey Ferguson 9540 combine sold for $201,000. The bidding appeared to stall at $180,000, but then two bidders locked horns and traded $1,000 bids another 21 times. Each bidder had $200,000 as their top.

Now, we flip the table and come at used combines from a seller/trade point of view. Knowing dealer lots are chock full of late-model used combines, you can expect to be offered less for your trade—if they will take it at all. Consider being a cash buyer and sell your used combine yourself. 

If you are in the market to buy, your odds of success are going to go up, as we see a significant uptick in the number of farm machinery auctions at the end of 2014 and into early 2015. We'll see an increase in both the number of farm retirement auctions and wholesale auctions featuring dealers working to move their excess combine inventory. Our older auction data shows dropping values after February through spring and into the summer months. Over the past seven years, this pattern dissolved as used equipment values remained high all year-round. We'll have to wait and see if this pattern continues in 2015.