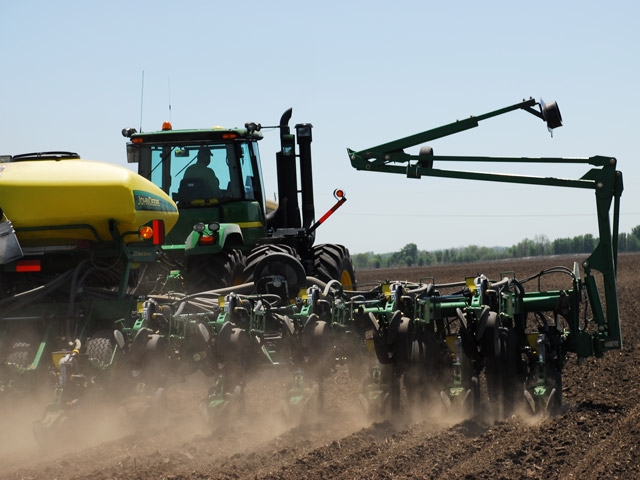 What gives? As I mentioned in my January Farm Journal column, the last couple months of 2016 I saw very strong auction prices on most all used farm equipment in good condition. How's that possible, you ask?

As you well know, lower commodity prices and increased profit pressure have been a reality since mid-2013. From 2007 until then, commodity prices were on the other end of the spectrum and new equipment sales soared. New equipment hasn't been moving off lots as quick the past four years.

That's understandable but you still have to put in a crop, right? Planting and harvesting windows continue to get tighter, increasing the need for reliable equipment.

If farmers aren't buying as much new equipment, that leaves the used route—to make sure they have what they need to get the job done. 

A friend from Louisiana posted on an online machinery discussion board in late December: "In my years of going to auctions, when crop prices are bad, used equipment brings more money, always has."
One trend our Machinery Pete auction data has clearly shown for more than 27 years is what I refer to as the "limbo bar rule." No, I'm not talking dance moves. Machinery Pete has zero game on the dance floor. 

I'm referring to an ever-moving auction price point, a dollar amount line in the sand. Twenty or more years ago this limbo bar auction price line was drawn at $20,000. Stay under that price range and used equipment in good condition would sell well no matter what was happening in the ag economy. During the good times for agriculture from late 2007 through 2012, my Machinery Pete limbo bar price shot up to almost $100,000.

It's fallen back some now to the $50,000 to maybe $80,000 range, but the rising price of new equipment has kept our limbo bar relatively high even as commodity prices fell.

I see the real world examples of our auction data on equipment such as John Deere 9770 STS combines. The average auction price in 2016 was $111,738; the average auction price in 2015 was $111,862. The machines are a year older but worth the same money. 

This force was at work at a Dec. 28, 2016, farm auction in south-central Minnesota where a nice 1996 Caterpillar Challenger 55 track tractor with 4,630 hours sold for $42,500. That's the highest auction price on a Caterpillar Challenger 55 in 37 months.

As I've mentioned, used values for larger horsepower tractors and combines have found a footing the past 18 months. Late-model, large planter values were still searching for a footing, but I started to see signs of strengthening prices in late 2016. See auction prices below for examples.
Buy your next piece of used farm equipment from the best online resource. With more than 100,000 listings from dealers across the country, shop at www.MachineryPete.com