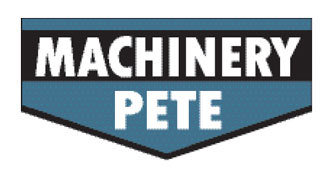 Let's saunter back in time and talk tractor values. Indeed, the cost of new tractors has gone up over time. But what about used tractor values?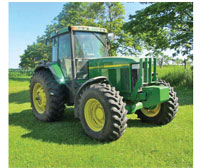 In August 2014, this 1999 John Deere 7810 with 1,050 hours sold for $129,139 (U.S. dollars) at a farm auction in Ontario, Canada.
I offer my auction data as a bread crumb trail to effectively evaluate used values. To see how used tractor values have tracked at auctions, I've pulled data on five-year-old John Deere 7800 and 7830 models that sold at auction from 1998 to 2014. 

In the data table below, a five-year-old 1993 model John Deere 7800 brought between $30,000 and $50,000 at auction in the late 1990s. Fast forward to the past couple of years. A 2008 model John Deere 7830 sold for $120,000 at a farm auction in north-central Missouri. Three 2009 model John Deere 7830s brought between $105,000 and $126,000 this year.
The data shows five-year-old tractors have doubled or tripled in value during the past 15 years.

Let's change the parameters and look at John Deere 7800 and 7810 models regardless of age to see how they have depreciated or appreciated over time. (See the table below.)
John Deere 7810 tractors, made from 1997 to 2003, are selling for 16.9% more now ($67,278) versus 10 years ago ($57,542). This proves an equipment market axiom I've been using for years: Once tractors reach 10 years old, buyers are willing to pay more for ones in good condition.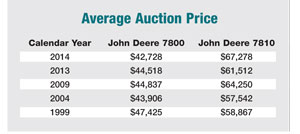 Simple math and human nature are at work. Consider Tier 4 engines and an aging farmer demographic favoring a simpler machine.

For example, a 1999 model John Deere 7810 with 1,050 hours sold for $141,000 (Canadian dollars) at an Aug. 2, 2014,farm auction in east-central Ontario, Canada. In U.S. dollars, that's $129,139, a new record auction price for John Deere 7810s. The former record was $113,000 for a 2001 model John Deere 7810 with 613 hours at an Aug. 27, 2011, farm auction in south-central Iowa.

Note the sale date on the record John Deere 7810 (early August) was well after the price of corn had dropped. Similarly, there was no effect on the 1998 model John Deere 7810 with 3,510 hours that sold for $88,300 at a Sept. 6, 2014, farm sale in southeast South Dakota.

The trend is similar with other tractor colors, such as the Case IH 8920, made from 1997 to 1998. The average auction price 10 years ago was $45,588. In 2014, it climbed to $48,563. Like the similar age and horsepower (150 hp to 155 hp) John Deere 7810, these tractors might be 10 years older, but they are a hot ticket machine.
If you know what five-year-old tractors are going for, and you know Machinery Pete data shows nice tractors 10 years or older draw increasing buyer interest, what can you do? Buy low and sell high. That's a strategy that never goes out of style.