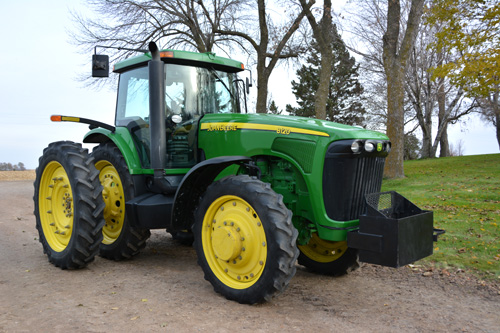 What's it worth now? What was it worth then? What's the newer model worth? 

To answer those questions, let's walk through a drill that looks at my auction sale price data from a couple different angles. My extensive database tracks all categories, manufac-turers and models of used farm equipment, but for this example, let's pick John Deere 8100 and Case IH 7120 tractors, both 150 hp to 160 hp. On John Deere 8100s and subsequent newer series (8110, 8120 and 8130), we'll compare recent auction data. On the Case IH 7120s, we'll look at average auction price data over the past one, two, three, five and 10 years on subsequent newer models (7220, 8920 and MX200).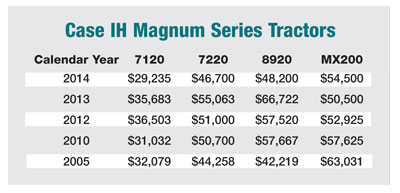 This deep data dive reveals several very interesting results. For starters, as shown on the data table to the right of average auction prices on Case IH Magnum Series tractors, values seem to have topped in 2012 and 2013. While the data table at right doesn't highlight auctions prior to 2014, the same trend played out with those four John Deere tractor models. In each case, the average auction price hit the high mark in 2012. 

This makes me think back to the March 31, 2012, farm retirement auction I covered near Ridgeway, Iowa, for Bob and Joyce Halverson. This sale was conducted by Sweeney Auction Service. It was a cloudy, blustery day, but the bidding was hot. The sale produced seven or eight new record high auction prices, including $138,000 for the Halverson's beautiful 2004 John Deere 8120 tractor with 1,033 hours.

As I walked the equipment line prior to the start of the sale, buyer demand for that John Deere 8120 was palpable. A ton of folks came up to me, asking: "Hey Pete, what's that 8120 worth?" and "What do you think it will go for?" I'd reply: "My guess is that it will go for a new record price." 

Prior to that auction, the record for a John Deere 8120 was $109,000, which was set on March 15, 2011, at an absolute consignment auction in west-central Illinois for a 2005 model John Deere 8120 with only 1,020 hours.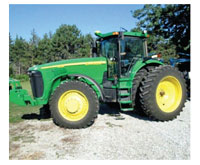 This John Deere 8120 sold for $99,000 in September 2014—in the middle of a three-month dip in auction prices that resulted in 15% to 25% lower prices.
I know I say it often, but timing is indeed everything. The mood in farm country was significantly more negative this past fall when a John Deere 8120 in like-new condition with only 1,365 hours, came up for sale at a Sept. 8, 2014, farm auction in east-central Nebraska. It sold for $99,000. 

It's interesting to note September was in the middle of a three-month stretch in 2014 where auction prices took a noticeable dip—as much as 15% to 25% in the case of large, late-model (one to five years old) farm equipment. 

By late 2014, used values were up again, as proven by the $117,000 sale price for a 2004 model John Deere 8120 with 1,434 hours sold at a farm auction in west-central Minnesota on Nov. 18, 2014.
The almost 10-year-old John Deere 8120, on average, sold for more at auction in 2014 at $95,841 than the newer John Deere 8130 at $90,977. What's up with that? As I've mentioned before, the notion that simpler is better is a real tug for many farmers. I'd also point out it fits the pattern I've witnessed for years now. As used equipment items approach the magical 10-year-old mark, it's as if the farm audience as a whole begins to appreciate them more. It's evident in the higher sale prices, and you can hear it at farm auctions. The rallying cry of every smart auctioneer is the same, "Boys, what's a new one cost?" That statement queues the bids, and off they run. 

As our data shows, this trend is time-tested and points buyers to the value of used equipment. If you acquire a five-year-old tractor in nice condition with low hours, you can bet in five more years it will be in higher demand.