Machinery Pete sees plenty of classic iron on the auction trail, but these 10 collectibles from the past year stood out--and for good reason. Look through his top classics of 2014, then vote on your favorite below!
1970 Oliver 1555 "Loader Special" with Farmhand F11 loader, sold for $29,500 on Sept. 21, 2014 at a farm auction in northwest North Dakota.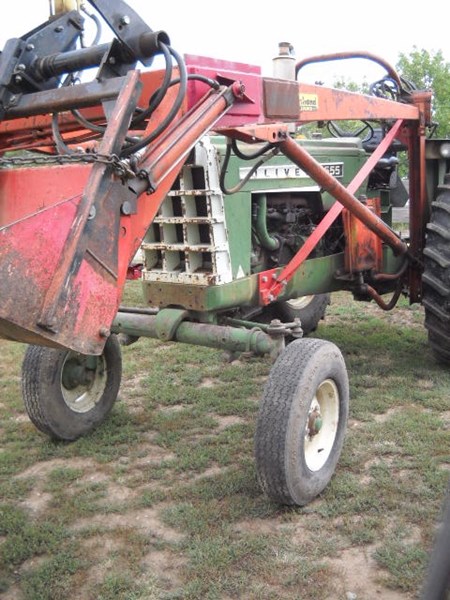 Auctioneer Lee Halvorson with High Plains Auction told me, "Pete, I've never seen anything like it. The bidding started at $5,000 with $250 bids. When it got up to $8,000 we jumped to $500 bids. Two guys locked in on it and wouldn't quit." Why was there such hot bidding? It turns out the 1555 "Loader Special" was a fairly rare model made by Oliver.
My friend Sherry Schaefer, Editor of Heritage Iron magazine (www.heritageiron.com), provided this additional insight: "These were originally sold from a dealership in Edgeley, N.D.  They were a special combination of features, and Oliver would set them up for him if he ordered 25 at a time. The dealer (Anderson Bros.) were Farmhand dealers but they were also set up for Koyker and Easy-On loaders. He heavily advertised these "Loader Specials" on TV and in magazines. They were economically priced and shipped all over, but sales originally went through him. After Oliver saw the success of them, they offered the same deal to some of their other dealers. There were nearly 1,000 of them sold just by three big dealers. Sold new, they were $3,995 and options increased the cost from there. They were primarily used on livestock farms and probably used hard, lowering the survival numbers.
Allis Chalmers D21, restored, converted to front-wheel drive, sold for $48,500 on June 28, 2014 at a collector auction in southwest Iowa.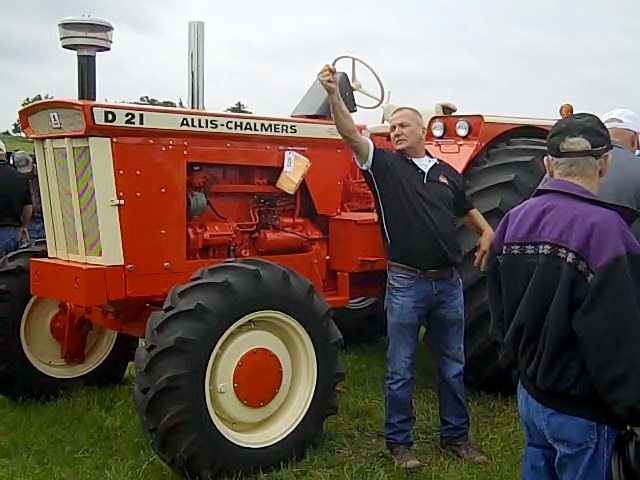 D21s are inching up on IHC 1206s as THE most sought after classic muscle tractor from the mid to late 1960s. Here's a new record high auction price for a D21, eclipsing the previous record high price of $33,000 set less than a month earlier, on May 31, 2014 at a collector auction in Sparta, Ill.
1975 John Deere 4230 with 5,242 hours, sold for $36,000 on Nov. 12, 2014 at a farm retirement auction in southwest Minnesota.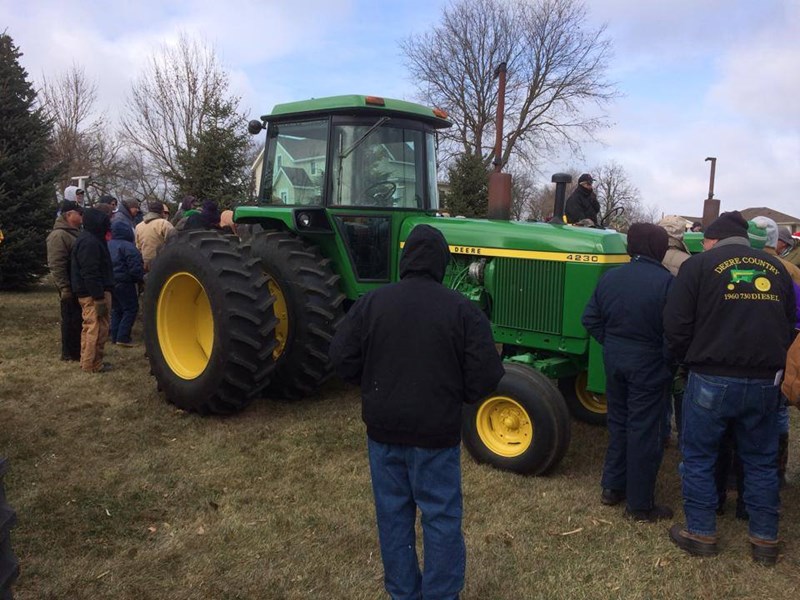 I knew this would a "hot" tractor, but wow, $36,000. This was a one-owner tractor, but many folks wondered before the auction why the new rubber all around and why the repaint? Well, to get to the truth you had to either know or talk to the owner, Dean Moll. Dean was an owner who took exceptional pride in his tractors and really truly wanted the buyers on his sale to feel like they were getting tractors in the absolute best condition possible…hence the investment in the new rubber all around and the paint to make it look new. He wasn't trying to hide anything; he was just 100% proud of his 4230. He made it like-new and interested buyers responded in a big way.
1975 International 1566 with 450 actual hours, one-owner, sold for $45,000 on Aug. 14, 2014 at a farm auction in southeast Minnesota.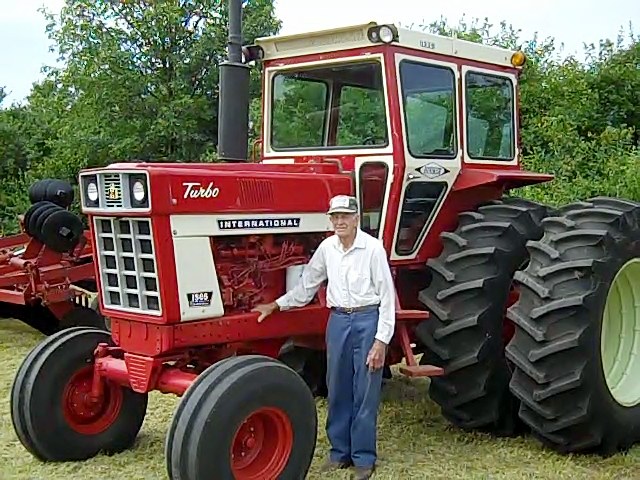 90-year old owner Carman Start shedded this tractor back in the late 1970s when he retired from active full-time farming and had a sale. But Carman kept his beautiful, hardly used 1566 in his wooden shed with no windows. Buyer interest in this tractor was off the charts. The $45,000 sale price zoomed over $20,000 higher than any 1566 I've seen sell.
1938 Minneapolis-Moline UDLX, restored, sold for $142,500 on Aug. 30, 2014 at a consignment auction in northeast Indiana.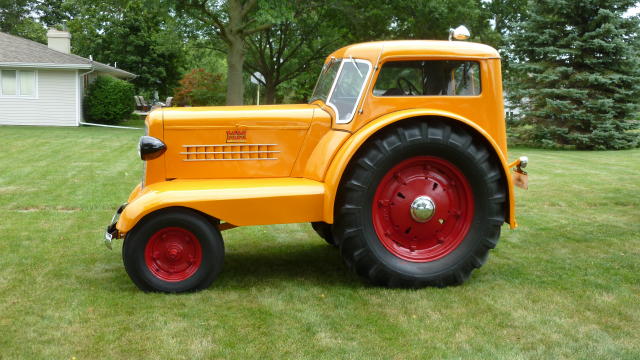 Polk Auction brings together a huge pool of antique tractor buyers from around the world to their annual three-day Labor Day sale in New Paris, Ind. They came ready to bid at the 2014 sale on the sweet restored 1938 Minneapolis-Moline UDLX. It's scary how far ahead of the game MM engineers were with the concept of this car/tractor, which was designed to work it in the field all week then drive it town on Saturday night back in the late 1930s. It was deemed too expensive back in the day, but now these rare UDLXs are hot items when they come up for sale.
Massey-Harris 44C Experimental crawler, sold for $30,500 on May 10, 2014 at a collector auction in west-central Minnesota.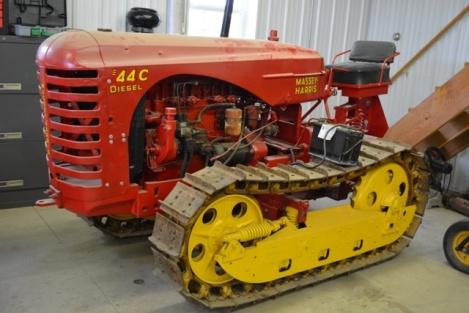 Gerald and Charlotte Fank of Cosmos, MN sold their amazing line of Massey-Harris tractors and memorabilia, quite the sale it was. The rarest item on their auction was this experimental 44C. Most folks don't even know Massey-Harris ever made a crawler. Gerald Fank told me the history on this unique item: "This was an experimental model that never hit the market. Years ago we were at a Massey-Harris collector event in Ohio and got talking to some guys from Minnesota. They said they had an old Massey-Harris crawler back home. Everyone laughed. About six or 7 years later I had been thinking about it and I called up to Duluth. I had written the gentleman's name down, but I got the wrong person on the phone in Duluth. He said he'd never sat on a tractor before. But he said wait a minute and gave me the phone number of another guy up in Two Harbors, MN who had a similar last name. He said he got his mail sometimes by mistake."
Gerald called the Two Harbors, MN phone number and bingo...."I talked to the daughter who told us her dad had used it years ago to haul logs and firewood into town. She said he'd go out there on a Saturday and be out there all day. It was in pieces when we bought it."
Gerald restored the Massey-Harris crawler with son Andy and wife Charlotte.
International 656 Hydro Demonstrator, sold for $19,750 on June 7, 2014 at a farm auction in northeast Kansas.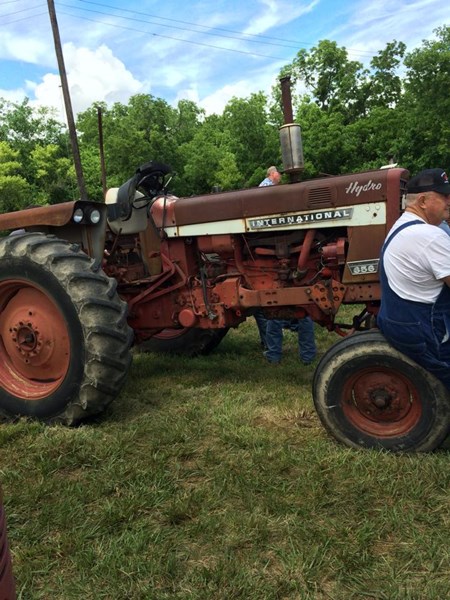 It ain't all shiny and ready for the parade. But that's perfectly fine in my book. In fact, there's a good amount of mystery in the rust. Here's a classic example of a International 656 Demonstrator that had been painted over years ago. In faded lettering on the opposite side of the tractor you could make out the "Demonstrator" lettering near the front. Finding one of these Demonstrators kind of feels like locating the diamond in the rough.
1972 John Deere 6030, restored, sold for $64,000 on June 28, 2014 at a collector auction in southwest Iowa.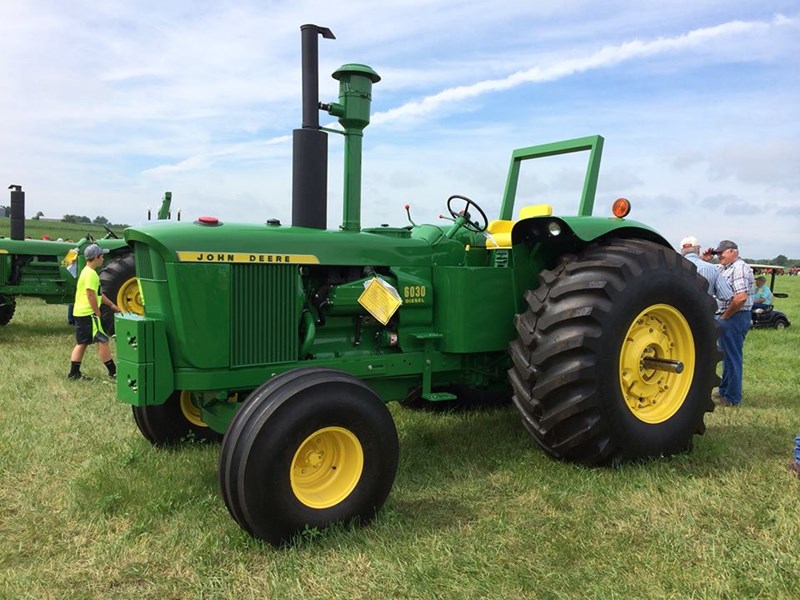 I don't really need to say much here. Just look at this 6030; the picture says about 10,000 words. The $64,000 sale price blew away the former record high auction sale price I'd ever seen on a 6030. The biggest challenge of this Machinery Pete "Top 10 Collector Tractors of 2014" actually was trying to figure out which ones to highlight from this June 28 collector auction for Keane Thummel in Bedford, IA. I think I could have given you an awesome Top 30 from this sale alone. Like the pair of John Deere 4000s that sold for $56,000 and $71,000, but this 1972 6030 was simply too good to pass up. Just look at that picture.
Minneapolis-Moline YT, sold for $47,000 on July 19, 2014 at an auction in west-central Iowa.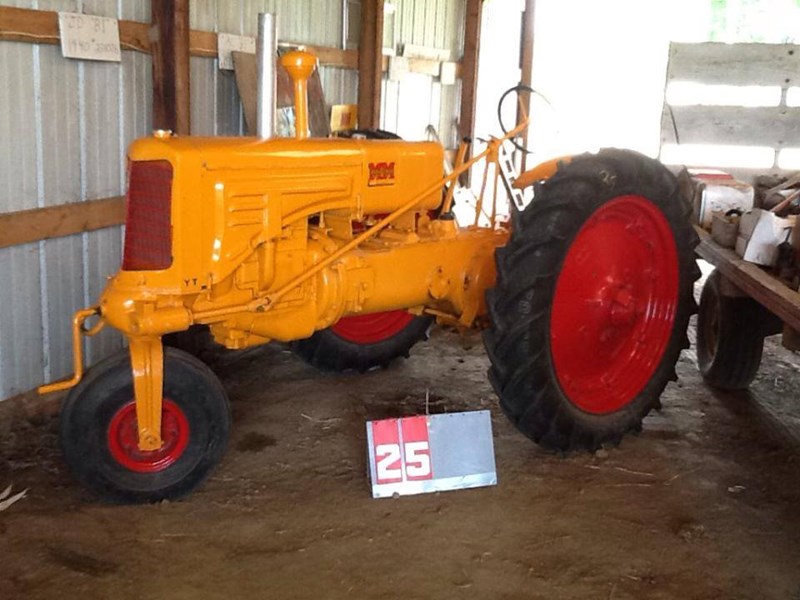 Only 25 were ever made. Only 5 are known to exist now. No wonder there was so much bidding interest in this Minnie-Mo.
Minneapolis 25-50 sold for $135,000 on May 15, 2014 at auction in north-central Kansas.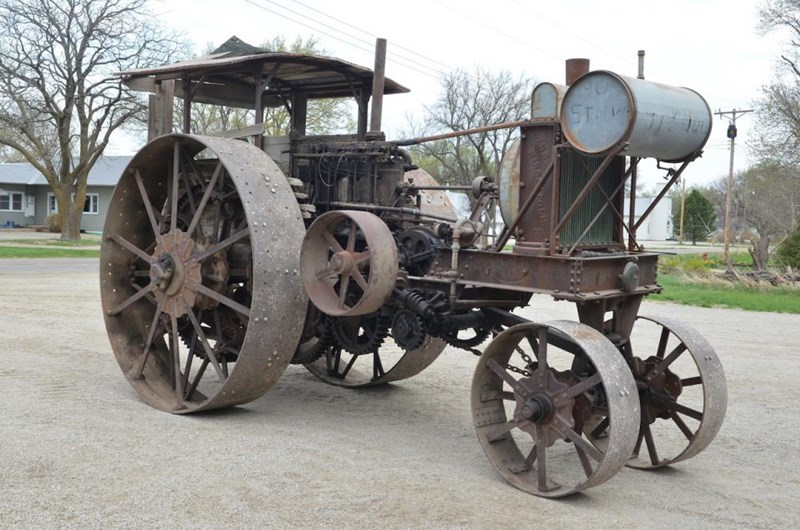 This rare 100 year old Minneapolis tractor had been in the Strnad family of Munden, Kan., since 1957. Aumann Auctions, Inc. pulled in significant buyer interest in this tractor from all over. The Strnad family earmarked proceeds from the sale of the tractor, which had become a unique landmark in Munden, Kan., to the county Community Foundation fund.
Vote on your favorite classic tractor!