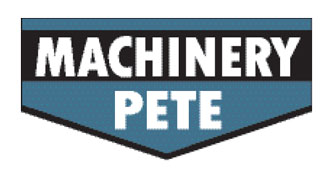 How times have changed! When I started covering farm machinery auctions in 1989, I can't say I saw a ton of shiny late-model equipment at retirement sales. Most equipment had lots of wear on it as the industry went through the meat grinder of the 1980s. Retiring farmers didn't buy all-new stuff. 

Now, quite often, they do. For example, take a Nov. 11, 2014, farm auction in west-central Illinois (several sales prices are included for reference in the table on this page) that had 17 pieces of model year 2014 equipment and four more items from model year 2013. Granted, this might not have been a traditional retirement auction; it could have been a financial restructuring. The bottom line is more than a dozen pieces of nearly new equipment sold at a single on-site farm auction.
Uptick in Gently-Used Equipment. In today's market, the event isn't unusual. I see farm auctions like this all the time. For example, an auction set for Dec. 17, 2014, in west-central Ohio included 10 items from model year 2014, four from model year 2013, two from model year 2012 and one from model year 2011. Among the machines for sale were three 2014 John Deere 8360R tractors, two 2014 John Deere 7210R tractors, three 2013 John Deere DB60 15" soybean planters, two 2014 John Deere 4030 sprayers, two John Deere S690 combines and one 2014 S680 combine.

Two days later, an auction planned for Dec. 19, 2014 in southeast Minnesota was set to feature 10 items from model year 2014, six from model year 2013, five from model year 2012, one from model year 2011 and eight from model year 2010. 

Among the machines for sale were four John Deere 9560RT tractors, four John Deere 9330 tractors and five Kinze 3700 24-row planters.

Like I said, times sure have changed. Our tax policy has played a huge part. Since the first Bush tax cuts back in 2002, farmers have been encouraged to minimize their tax bite by buying iron with the growing and expanding Section 179 write-off.

Since late spring 2013, belts have tightened. We see more farm auctions featuring tons of late-model equipment like the three I've highlighted. 
Late-Model Values Fall. How is all of that super late-model machinery selling? Let's return to the Nov. 11 auction in Illinois. A pair of model year 2014 John Deere 8285R tractors with fewer than 300 hours sold for $161,000 and $158,000. Compare that to an older-model 8285R tractor sold in March 2014 in northeast Missouri. The 2013 tractor with 164 hours netted $200,000. 

Values fell noticeably in the months leading to November 2014. This recalls a tried-but-true axiom. It's not what you sell; it's when you sell it. From mid-August through October 2014, auction data reveal a drop of 15% to 25% in auction sale prices on large late-model equipment. 

More proof of this decline came during the Nov. 11 auction with the sale of a 2014 John Deere S600 combine with 318 engine hours. It went for $211,000. By contrast, a model year 2012 John Deere S660 with 117 engine hours sold for $255,000 on June 28, 2013, at a consignment auction in southwest Illinois.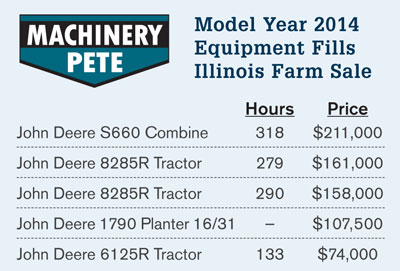 These are some of more than a dozen model year 2014 machines sold Nov. 11, 2014, at a farm auction in west-central Illinois.