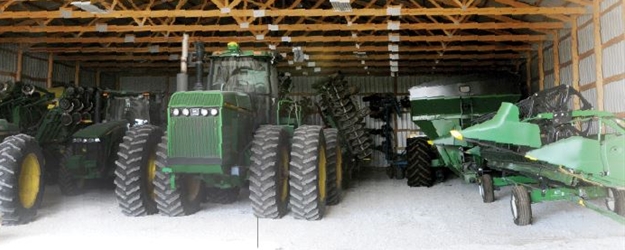 The 24 months from January 2013 to January 2015 proved to be quite a rollercoaster ride in terms of used farm equipment values. The market mostly went down, down and down, but it had enough swerves and rises to keep things interesting.

Although rollercoaster rides are fun, there are serious and important business implications we're talking about here pertaining to your net worth. This is also important knowledge to apply when buying, selling and trading farm equipment.

The down part of the rollercoaster is exhibited in the accompanying chart, which shows falling used farm equipment values. The data come from my quarterly "Used Values Index" report. 

Using my rating scale of 1 to 10 for reference, see how we topped out in the first quarter of 2013 with a rating of 9.5, tying the all-time high. 
Why Prices Fell. The fall started in the second quarter of 2013, driven largely by softening auction prices on one- to five-year-old large, late-model, used units. That includes four-wheel drive tractors, 200 hp tractors, combines, 24-row planters and self-propelled sprayers. 

As commodity prices fell, it became difficult for dealers to move late-model trade-ins, and they piled up fast on lots.

Note: Auction prices broke their fall and surged higher in the fourth quarter of 2013. Why? Farmers are solidly trained to minimize taxes at year's end. Hence, they look to equipment purchases as a tool to achieve that goal via the popular Section 179 write-off.

Used values continued to slide in 2014 and took a header south during the third quarter. This became particularly evident in August and September, when my rating fell from 7.8 to 7.1.

That set us up for an interesting fourth quarter. My gut said values would fall further. Yet look at the chart and you'll see my rating held firm. Again, we witnessed the annual Section 179 goose to the used market, as well as the surprising northward movement in corn prices. Soft prices at wholesale auctions in December kept the index from rising.
    
Historic Pattern Emerges. Looking ahead, I see a return to the old data pattern I observed through the 1990s and again from 2005 to 2007. This pattern shows strong auction sale prices in the first quarter of the calendar year, then softer sale prices through the second and third quarters. 

January 2015 got off to a strong start. I saw things like a 2010 Case IH 6088 combine with 393 engine hours sell for a record $207,500 on Jan. 20 at a farm auction in northeast Missouri. 

If you're thinking about buying big-ticket, late-model, used equipment, plan to be in the market from late spring through early fall. You'll be in the driver's seat and could find some great buys.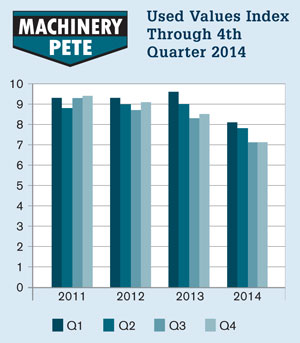 Data from 2011 to 2014 reveal a pattern of strong auction prices on used farm equipment in the first quarter, then softer sale prices in the second and third quarters.