In early August, AGCO Corporation hosted its largest and most significant product launch in the company's history, with 15 new machines.

"We've followed the road map we set out five years ago," explains Bob Crain, AGCO senior vice president and general manager for North America. "Expect for this company to go twice as far twice as fast in coming years."
With a $100 million investment, the Massey Ferguson 9500 Series axial combine is being introduced as the company's new global harvesting platform. This series is powered by 8.4-liter and 9.8-liter AGCO Power engines with SCR systems and includes three models at 313 rated hp, 370 rated hp and 460 rated hp. The combines are outfitted with the Trident processor, featuring a segmented rotor measuring 144" long and 35" in diameter. The new V-Cool system moves away from a stacked cooling design to arrange the automated system in a V shape on top of the machine. Grain tank capacity is 350 bu. and an optional 24" unloading auger provides a 4-bu.-per-second unload rate.

As a result of a joint venture with Amity Technology, the White 8936-30 is the first planter on tracks available in the market. Built with a 12"x12" tubular frame and a 10"x10" telescoping tongue, the planter weighs 50,000 lb. when empty. The track system is built with 30"x67" rubber tracks that provide a low 12 psi when the planter is fully loaded. The planter is outfitted with two 75-bu. seed tanks and two 750-gal. fertilizer tanks. This planter is the first from AGCO to come standard with automated row shutoff and pneumatic row-unit down pressure.

The Challenger MT500D Series tractors range from 170 hp to 225 hp and are powered by AGCO Power 6.6-liter and 7.4-liter engines with SCR systems. The tractors are geared with the TechStar CVT or AutoPower VI partial powershift transmissions. A front three-point hitch can be ordered from the factory for field installation and a field install kit is available for a front PTO.

Replacing the Massey Ferguson 6400 and 7400 Series, the Massey Ferguson 7600 Series tractors are geared with either the Dyna-6 or Dyna-VT transmissions. The four tractor models range from 170 hp to 225 hp and are powered by AGCO Power engines with SCR systems. A front three-point hitch can be ordered from the factory for field installation and a field-install kit is available for a front PTO. A one-piece hood simplifies maintenance.

The Hesston by Massey Ferguson WR9700 windrowers feature a 21-mph transport speed, the V-Cool system and AGCO Power engines with SCR. Five models range from 100 hp to 220 hp and all hydraulic engine and drive functions operate from an onboard computer terminal. The machines feature GlideRider rear-axle suspension.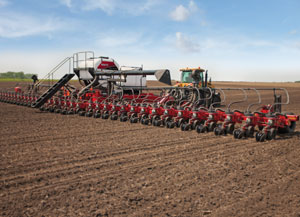 White 8936-30 Planter on Tracks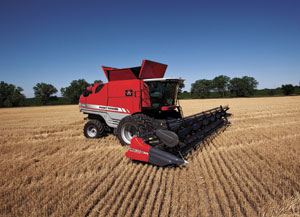 Massey Ferguson 9500 Axial Combine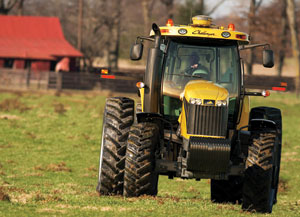 Challenger MT500D
In response to the growing hay export market and the biomass baling industry, the Hesston by Massey Ferguson 2170XD large square baler can pack a 15% to 30% denser bale. The baler is built with a 91% heavier flywheel, larger and stronger components in the gearbox and a reinforced frame structure.

As a result of the full acquisition of Fella hay equipment, Hesston by Massey Ferguson introduces the DM1300 butterfly mower system. With three mounted mowers, the system can cut more than 30 acres an hour. The cutting height can be adjusted from 1.5" to 2.8".

The Sunflower 9800 Series single-disk air drill is available in 30', 40' and 50' widths and can be paired with the all-stainless-steel Sunflower 9900 Series air carts available in 280-bu., 335-bu. and 525-bu. capacities.

Expanding the company's drill lineup, the Sunflower 9600 conventional drill is new from the ground up and offers row spacing options of 6", 7½" and 10".

Sunflower expands its tillage lineup with the 4600 Series disk ripper, 1800 tandem disk harrow and 1700 offset disk harrow.

Three new RoGator models—the RG900, RG110, and RG1300—feature increase horsepower, reduced noise and engines with SCR systems. The sloped hood design mimics that featured on Challenger track tractors. The new RoGator Management Center has an improved display,
engine data and rear-wheel track monitoring and adjustments.

The three-wheel chassis Terra-Gator TG7300 and TG8300 and four-wheel chassis TG8400 are powered by AGCO Power engines with SCR systems. They feature increased electrical capacity and redesigned finger guards for easier access to the alternator, belts and other service com-ponents. Improvements on the application system's hydraulic system provide maximum output flow at lower revolutions per minute on the 1,800-gal. liquid, Airmax Precision, Airmax Precision 2, Air Spreader and Soilection Twin Bin systems.

Ready to be installed on AGCO equipment, the System 350 provides automated steering and integrates all of the control features as part of the X30 console. The system can run RTK correction signals and is capable of using continuously operating reference station (CORS) networks. The system can be transferred between machines.

For more, visit www.agcocorp.com.
---
Yamaha: Made in the USA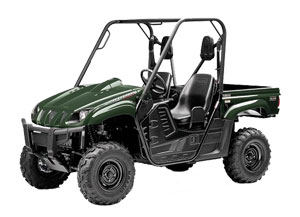 Rhino 700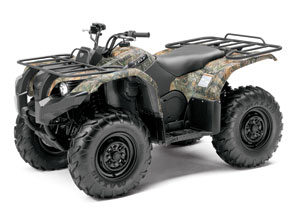 Grizzly 450
Yamaha's 2012 line of 450, 550 and 700 Grizzly ATV models and side-by-side Rhinos offer more options for work and play. They are assembled at Yamaha's 875,000-sq.-ft. plant in Newnan, Ga., where workers manufacture and assemble one ATV every 1.3 minutes.

The Rhino has a liquid-cooled 700 class, four-valve single overhead cam design engine to cover any type of terrain. The Ultramatic automatic transmission system features a centrifugal clutch that allows the drive belt to remain under constant tension so there is no slippage while idling. Add the On Command two- and four-wheel-drive system with differential lock that is switchable at the touch of a button, along with separate hand controls for the hydraulic front and rear disk brakes for more control. Colors for 2012 are green, blue and camo, with a special model painted Metallic Sandstone. The special edition model includes aluminum wheels, bed rails, LED taillights, a dome light, roof and overfenders.

The Grizzly 450, 550 and 700 FI models sport best-in-class electric power steering by measuring the speed and torque that is applied to the steering through the handlebars and impact with the front wheels. As the Grizzly's speed increases, the power steering function becomes less engaged, resulting in very natural turning.

With smart engineering, moving much of the ATV's weight to the center, the Grizzly has the lightest weight for full-featured models in the class, along with improved fuel mileage. The On Command system will mechanically lock, as it is always engaged—whether the machine is traveling
uphill, downhill, forward or reverse. These models sport a rider-friendly engine braking system: no buttons, switches or electronic controls.

The 2012 Grizzly models also feature gas-charged rear shocks and a five-way pre-load adjustment that improves ride quality at all speeds. Maxxis tires provide more aggressive tread and flatter cornering.

For more information, visit www.yamaha-motor.com.
---
Outside of the Box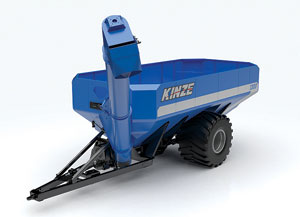 Kinze's forward-angled corner auger cart is the result of Jon Kinzenbaw thinking outside the box and externally mounting a 20" corner auger. The larger carts replace the 5000 Series and will be available in 900-, 1,100-, 1,300- and 1,500-bu. capacities. The dual-auger design provides improved visibility, extended reach and up to 500 bu. per minute grain unloading. The vertical corner auger pivots up to 10° and features an adjustable spout, and the one-piece, horizontal auger moves grain from back to front. The grain cart box is built with 45°-angle corners for greater capacity. Tire options include high flotation tires and dual tires. The three larger models can be outfitted with a 36" tracked undercarriage. A new Steerable Tandem Axle is available for the 1500 model featuring four 66x43-25 tires. Other options include an electronic scale packages an electric roll tarp and a dual camera to monitor both the rear of the cart and the unloading auger. For more information, visit www.kinze.com.