Tough Tractors
Powered by 4.9-liter, four-cylinder AGCO Power engines that are Tier 4 Interim-compliant, the 6600 Series tractors from Massey Ferguson span three models. The MF6614, MF6615 and MF6616 range from 100 to 125 PTO hp, respectively. The engines feature an intercooled turbocharger, a high-pressure common-rail fuel-injection system and electronic engine management. There are three hydraulic systems available and three transmission options. Base price range: $109,957 to $164,818. For more information, visit www.masseyferguson.us.  
---
Combines Add Capacity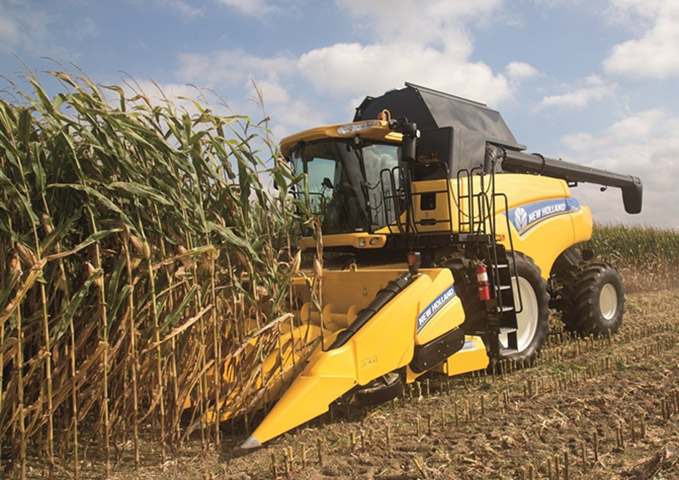 A capacity increase of up to 15% and enhanced operating flexibility top the list of what's new on the Twin Rotor CR combines from New Holland. The Dynamic Feed Roll improves feeder performance up to 10% with greater throughput. The cleaning shoe on the CR8090 and the CR9090 delivers up to 8% higher performance in standing corn with a larger-diameter clean-grain cross auger. Those models also include an enlarged 410-bu. grain tank, a capacity increase of 17% compared with previous models. The high-intensity light package improves the spread of light at the front of the combine up to 55%. Two halogen lamps are mounted to the rear shield of the combine and help operators monitor residue distribution, while two additional lamps illuminate the area around the rear steering wheels. Base price range: $366,000 to $493,000.

At the front of the machine, the 980 Series corn heads and the Cornrower chopping corn head attachment save grain and time at harvest. The 980 Series features low-profile dividers and islands to reduce the chance of knocking down corn in tight turns, an exposed front gathering-chain sprocket that improves pickup of downed corn and end dividers designed to minimize header loss. The rigid-frame 980CR is available in 6, 8 or 12 rows with spacing configurations of 30", 36" or 38". The folding 980CF is available in 12 rows with 30" spacing. Base price range: $50,000 to $150,000.

The Cornrower comes as an add-on for the New Holland 980 Series, 900 Series or 99C chopping corn head with no header modification. It catches corn stover under the stalk rolls, creating windrows in the same pass as corn is harvested while preventing soil contact. List prices: 8-row Cornrower, $36,350; 12-row Cornrower, $48,750. For more details, visit www.agriculture.newholland.com/us.
---
Field Hands
The two models joining Kubota Tractor Corporation's M-60 lineup add versatility well-suited for hay operations. The M6060 features 56 PTO hp, and the M7060 boasts 64 PTO hp. Available in two- or four-wheel drive, the M6060 features a Kubota V3307 diesel engine and an ergonomic console with an additional direct shift linkage and easily accessible hydraulic remote levers. The M7060 deluxe models feature a 12F/12R transmission and high-capacity hydraulic flow of 16 gal. per minute. Base price: M6060, $37,325; M7060, $39,160. For more information, visit www.kubota.com.